Rosie O'Donnell show axed by Oprah Winfrey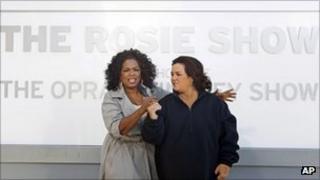 Rosie O'Donnell's daily US talk show has been axed from Oprah Winfrey's TV channel after five months for failing to attract high ratings.
The Rosie Show's debut in October, featuring Russell Brand, drew 500,000 viewers. It averaged 204,000 last month, according to Variety magazine.
Winfrey, who set up her Oprah Winfrey Network in January 2011, hailed "an incredible partner".
O'Donnell's previous chat show, which ran from 1996-2002, won multiple Emmys.
Winfrey said she had learned that "a new network launch is always a challenge and ratings grow over time as you continue to gather an audience".
O'Donnell said she had been welcomed "with open arms".
"I wish the show was able to attract more viewers but it did not so I am headed back to my home in New York with gratitude - on we go."
The production, filmed at Chicago's Harpo Studios - home to The Oprah Winfrey Show for 25 years - was at first taped in front of an audience before becoming a more intimate one-to-one interview show.
The final edition will be aired on 30 March.