Anna Ford criticises BBC over ageism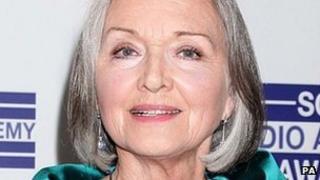 Former newsreader Anna Ford has accused the BBC of "tokenism" in the debate over ageism on television.
Appearing on BBC Radio 4's Desert Island Discs, Ford said she would not go back in front of the camera.
Host Kirsty Young asked her about BBC director general Mark Thompson's recent comments on his regret at the lack of older women on television.
Ford said: "It's a bit late, isn't it? He's been here for a long time, he hasn't done a lot about it."
Final broadcast
The ex-BBC and ITN journalist added: "They have asked people like Julia Somerville back and I did bump into her recently and said 'congratulations, I'm really pleased that you've taken this job' and she said 'yes, I know, but I've only got 24 days a year on my contract'. It seems to me tokenism."
Former Countryfile presenter Miriam O'Reilly won an age discrimination case against the BBC last year after she was dropped from the rural affairs show when it moved to a primetime Sunday evening slot in 2009.
Last month, comic actor Rowan Atkinson said the BBC should have been allowed to release her from Countryfile without facing age discrimination accusations.
That followed Mr Thompson's admission, in an article in the Daily Mail, that there were "manifestly too few older women broadcasting on the BBC, especially in iconic roles and on iconic topical programmes".
The O'Reilly case had been an "important wake-up" for the BBC, he said.
Ford presented her final BBC One news bulletin in 2006, at the age of 62.
Last year she was said to have described Question Time presenter David Dimbleby as a "charming dinosaur" after it was reported he was offered a new £3.5m contract.
And in 2007 she was reported as criticising the BBC for ageism, accusing the corporation of discriminating against anyone over 60.
Late husband
In an interview in the Telegraph in January, Ford said she was "always slightly taken aback" that it made the headlines when she spoke out in public.
"When a man speaks out, he's called assertive. A woman is branded something derogatory like 'aggressive'; it's very unfair," she told the newspaper.
"Maybe I come across as Angry Anna because I'm essentially a private person and I very rarely give interviews, so nobody sees the other sides to me."
Ford also spoke on Desert Island Discs about the early death of her husband, cartoonist Mark Boxer.
"We'd just really got to know each and we were settling down in this wonderful house in west London and everything was wonderful so to have that whipped away was about the worst thing that could possibly happen to you and yet you cope with it because you've got to," she said.