Artists pay homage to The Smiths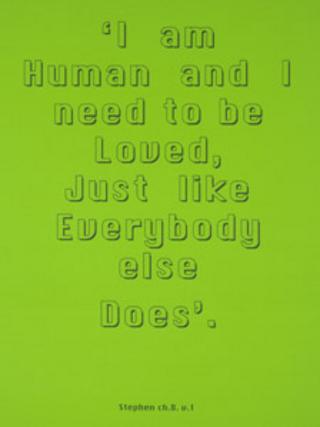 Tap dancing, a singing bear and classic gig photos form part of an exhibition of The Smiths' influence on art.
Works by Turner Prize winner Jeremy Deller and photographer Stephen Wright, who took some renowned pictures of the seminal band, are on show.
The Gospel According To..., at the Holden Gallery in Manchester, explores how the group's lyrics and music have inspired contemporary visual artists.
The exhibition has been timed to mark the group's 30th anniversary.
Jeremy Deller's works reposition Smiths lyrics as Biblical quotes.
In one, the line "I am human and I need to be loved, just like everybody else does", from the song How Soon is Now, is followed by the attribution "Stephen ch. 8, v. 1" - a reference to singer Morrissey's first name.
The exhibition also includes Lucienne Cole's video of a girl tap-dancing badly to Heaven Knows I'm Miserable Now and Andrew Bracey's animated bear singing along to This Charming Man.
Stephen Wright's photos, including some famous images of The Smiths posing outside Salford Lads' Club and playing live, are accompanied by more recent photos taken of fans on a pilgrimage to the club.
The Smiths drummer Mike Joyce was among those at the exhibition's opening on Thursday. "It's a great tribute to the band really and the group," he said.
Co-curator Jane Anderson said she wanted to give a "contemporary viewpoint to show how generations of artists and cultural people have been inspired by their lyrics and humour and tragedy".
She added: "Usually when you see an exhibition looking at something like The Smiths, it's more of an archive exhibition with memorabilia and things like that, so I wanted to give it a more contemporary perspective."