Somerset House displays 10,000 clay flowers in outdoor display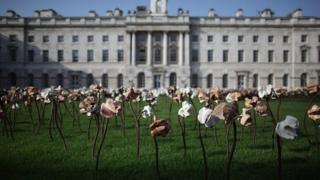 An art installation made up of 10,000 handmade clay flowers has been unveiled at Somerset House in London.
Out of Sync, by Chilean artist Fernando Casasempere, marks the start of the venue's new programme of events.
Casasempere individually made each flower, ensuring no one bloom is the same.
Somerset House said the artist "hopes to give an impression of conformity and yet show how we are always able to spot subtle differences in repeated images".
Casasempere is best known for his clay sculptures and brought twelve tonnes of his own clay with him when he moved from Chile to London in 1997.
Somerset House said he "regularly pushes the boundaries of the discipline by experimenting with different mixtures and materials".
It is hoped the free display will "remind visitors of the wonder and accuracy of nature's clock in our ever changing man-made environment".