Gerard Depardieu calls Dominique Strauss-Kahn 'smug'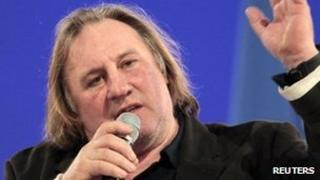 French actor Gerard Depardieu has revealed he signed up to play Dominique Strauss-Kahn because he found the former IMF chief "arrogant and smug".
In an interview with Swiss Television RTS, the star said: "He is very French: arrogant, smug, He's playable. I will do it, because I don't like him."
Mr Strauss-Kahn left the International Monetary Fund last May after being charged with raping a hotel maid.
The case was dropped but ended his ambitions for the French presidency.
Isabelle Adjani will star alongside Depardieu in the film as Mr Strauss-Kahn's wife.
Depardieu said he accepted the role because "I don't like him. He's not lovable".
US director Abel Ferrara told France's Le Monde newspaper last month that the project was going ahead and would be shot in New York, Paris and Washington.
Ferrara is best known for hard-hitting films dealing with the dark and seedy side of life, such as Bad Lieutenant, starring Harvey Keitel as a corrupt New York policeman with a drug and gambling addiction.