George Osborne plans TV drama tax breaks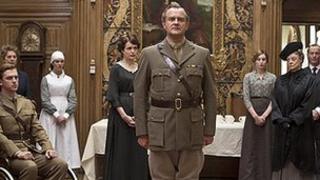 Big budget TV dramas including Downton Abbey could be offered 25% tax breaks for filming in the UK, the chancellor is expected to announce in his Budget.
George Osborne will say too many "cinematic" UK TV shows are filmed abroad because of tax incentives.
A forthcoming Titanic TV show, written by Downton Abbey creator Julian Fellowes, was filmed in Hungary.
Lord Fellowes said tax relief would be "a fantastic move forward" for the industry and country as a whole.
The UK TV production industry comprises more than 1,500 independent TV production companies, employing 21,000 people with total revenues of £2.2bn, according to the Treasury.
Mr Osborne is expected to announce a consultation on tax breaks in Wednesday's Budget.
The government believes that competitive tax incentives would lead to the creation of thousands more British jobs.
UK showcase
"British television is second to none but unfortunately, time and time again, great British programmes are being made overseas where the tax climate is more favourable," Lord Fellowes said.
He said that, if the Budget addressed this, "a host of new productions would undoubtedly be produced here as they certainly should be".
While global hit Downton Abbey was filmed in the UK, other major TV dramas filmed abroad include Tom Stoppard's forthcoming BBC/HBO adaptation of Ford Madox Ford's Parade's End, which was shot in Belgium.
Sky1's Strike Back, based on the novel of the same name by former SAS man Chris Ryan, was produced in South Africa, which offers tax relief of 15% for foreign and 25% for homegrown productions.
Hungary and France offer tax relief of up to 20% of production costs while Ireland offers up to 28%, the Treasury said.
"One of the ways the world sees Britain at its best is through world-class films and television made in Britain," a Treasury source said.
"They not only help us showcase the country but are also an important part of a dynamic and diversified economy."
Existing tax relief for British films had been critical in "ensuring that industry continues to thrive", it was added.
Under that scheme, smaller films, with a budget of £20m or less, are offered a 25% rate of relief with bigger budget productions offered a 20% rate.