Project Barcelona to see BBC open archive for downloads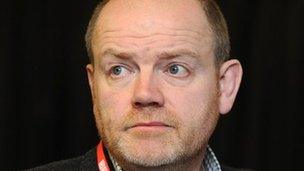 BBC director general Mark Thompson has announced proposals allowing viewers to permanently download copies of their favourite shows from the archives.
Mr Thompson said the plan - named Project Barcelona - would enable the purchase of programmes to own for a "relatively modest" fee.
He added that the digital archive would stay open for good, and shows would remain available to licence fee payers.
The plans will be put before the BBC Trust later this year.
Mr Thompson, who was speaking at the Royal Television Society (RTS) in London, said that the UK's producers would also need to give their support to the project.
He said that the BBC intended to open up a "digital shop" for programme downloads, but that other existing providers would also be able to buy the content.
Mr Thompson added that more and more programmes from the archive would be added to the service.
He described the scheme as the "digital equivalent" of people buying a DVD of their favourite programme for a permanent collection. Many of the programmes would not have previously been available to own.
The BBC's boss also said that the project would provide a source of income to support independent programme production in the UK, and denied it was a "second licence fee by stealth".
Media commentator Steve Hewlett said: "Other broadcasters could be concerned about the service's impact.
"When it launched, iPlayer was extremely disruptive to emerging paid-for content models because it was free at the point of use. People will be asking whether Project Barcelona will have a similar effect on the market."
Mr Hewlett added: "The BBC's archive programmes - like Fawlty Towers and Doctor Who - already represent a significant commercial revenue stream in the form of DVDs and downloads on services like iTunes.
"If it is going to open up the broader archive, then it would naturally expect people to pay for access."
Project Barcelona is viewed as another part of a strategy to give access to the BBC's programmes, which the corporation has been pursuing for the past decade.
It follows on from the iPlayer and YouView - a free-to-air, web-based service joining the BBC with other providers including Channel 4 and ITV.
Related Internet Links
The BBC is not responsible for the content of external sites.