Gloriana opera to be revived for coronation anniversary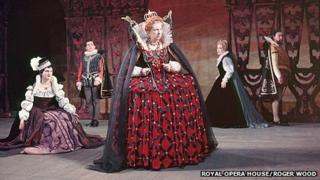 An opera written for the Queen's coronation will be revived to mark its 60th anniversary.
Gloriana, composed by Benjamin Britten for the 1953 pageant, will be directed by Richard Jones, the man behind an opera about heiress Anna Nicole Smith.
Britten's work has not been staged by the Royal Opera House since it met with poor reviews 60 years ago.
The production, due to be staged in June 2013, will also be relayed live in cinemas around the world.
'Emotional fitness centre'
Gloriana tells the story of Queen Elizabeth I and her relationship with the Earl of Essex.
The ageing Tudor monarch is depicted as flawed and vain, and the present Queen is said to have been disappointed by the work at the time.
Britten - whose birth centenary is also being marked with the revival - suffered a rare failure with the opera, which was not received well by audiences.
Jones, who oversaw a vibrant operatic production of the late glamour model and heiress Anna Nicole Smith's life story, is expected to give a modern day makeover to the fresh production of Gloriana.
Other highlights of the Royal Opera House's forthcoming season include tenor Placido Domingo singing the role of Verdi's Nabucco for the first time in his career.
Anniversaries in 2013 for Verdi and Wagner will also be marked at the London venue.
The new season will also see the debut of new director of opera Kasper Holten with a production of Tchaikovsky's dramatic opera Eugene Onegin, which he called "an emotional fitness centre".
Introducing his first programme, the Danish director said the venue is a "unique place in society", adding that making it accessible to the public remains important.
"We want to get the message out there not just to fill seats, but simply because it's a pity for people who don't yet know what opera is.
"I feel sorry for people who haven't had that experience - I want them to try it," he added.
He said that it would be possible for people to try opera for the first time with a range of seating and ticket prices on offer.
The 38-year-old acknowledged that current production Miss Fortune, a new opera, was not liked by everyone but said fresh commissions were still needed.
"For me, it's not a question of whether an opera is a success or not, it's about being able to take the risk of writing one. We need to be able to do that," he said.
The Royal Opera House's major new offering is Written on Skin by British composer George Benjamin.
The story of a grisly medieval love triangle is due to premiere next March.