Royal Court hits Posh and Jumpy set for West End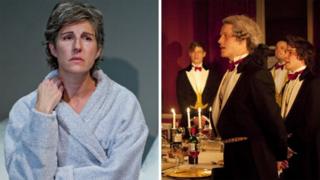 Two of the Royal Court's biggest hits are to be staged in a West End season starting this summer.
Laura Wade's Posh and Jumpy, by April De Angelis, will run at the Duke of York's Theatre between May and November.
The new season follows recent blockbuster Royal Court transfers Jerusalem and Clybourne Park.
The Duke of York's housed the Royal Court for three years when its Sloane Square base closed for refurbishment.
Posh, about an elite Oxbridge dining society - a thinly-disguised Bullingdon Club - played to 100% capacity at the Royal Court in 2010.
It is one of the highest-grossing shows ever to play in the theatre. The transfer will run 11 May - 4 August.
Jumpy, a family drama starring Tamsin Greig, sold-out four days after its opening night in 2011. Greig will reprise her role in the play which runs 16 August - 3 November.
The Royal Court's artistic director Dominic Cooke said the two plays asked "searching questions about who we are in Britain today, about the relationship we have to our traditions and the forces that shape our lives".
The West End season is being co-produced with the Ambassador Theatre Group.
Cooke added: "As the world focuses its attention on London for the Olympics, it's a great moment for the Royal Court to mark its groundbreaking contribution to British culture, and the leading role British playwrights take in theatre across the world, with a season in the West End."