Richard Bean looks beyond One Man, Two Guvnors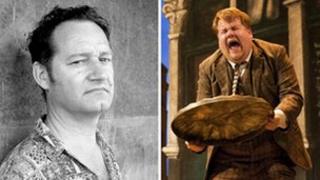 As playwright Richard Bean prepares to unleash his farce One Man, Two Guvnors on Broadway, he reveals his next work for the National Theatre is a very "different cheese".
It is half an hour after the opening night of One Man, Two Guvnors at the Theatre Royal Haymarket and its writer Richard Bean appears to be having a rant.
"I've seen it in performance about 45 times, and 25 times of those I've been taking notes on what needs changing," he explains.
"With this new cast, I'm writing down the same notes I was doing two years ago. Nobody takes any notice of my notes!" he storms with mock indignation.
In reality, the former stand-up comedian has a lot to smile about.
One Man, Two Guvnors, his twist on Carlo Goldoni's 1746 comedy The Servant of Two Masters, has been a runaway success since it first opened at the National Theatre in May 2011.
One review described as "the funniest show in the western world". The play has just been nominated for five Olivier theatre awards.
Bean's slapstick adaptation tells the story of gluttonous minder Francis Henshall juggling errands for two bosses in 1960s Brighton.
The show has toured the UK and is now on its second West End run. The original London cast - led by James Corden - will open the show at New York's Music Box Theatre on 18 April.
Last week the play opened in its new West End home with Corden's former understudy, Owain Arthur, taking over the lead role.
"We decided not to go with another big name because then it becomes Blur v Oasis," says Bean.
"People would say 'Owain's not famous' and we'd say 'Who gives a damn? Can the play stand up?' The play goes on, Owain's brilliant and that's it. Owain will be famous for what he's doing now."
The imminent Broadway transfer means Bean's work on the play isn't over yet.
"I go for the previews, and rewrite the jokes for the morning afterwards when they don't work for the audience," he says.
"I'm just being pessimistic. It'll be a good thing if I've got one joke to work on the morning after - that would be my dream."
But won't all those cricketing references bowl a googly at New York audiences?
Bean confirms that references to cricket legends Denis Compton and Don Bradman have been cut "because no American would understand who they were".
But the play is otherwise largely intact.
"I had a good chat with [director] Nick Hytner and our intention was always to keep it very British. If you see an American play about baseball you might think it's quite exotic, even if you don't understand anything about baseball.
"Essentially this is a play about the human condition: someone who's incredibly hungry and incredibly horny. Act One: hungry. Act Two: horny. That's it."
Bean's plays include England People Very Nice for the National, Toast for the Royal Court and The Hypochondriac for the Almeida.
His next work for the National will be the The Count of Monte Cristo, based on the novel by Alexandre Dumas. It will run at the Olivier Theatre from December.
Bean announces he's finished Act One that very afternoon. "What I can tell you is it'll be shorter than the book."
Unlike in his current hit, audience members will not be joining the actors on stage.
"There'll be none of that low comedy nonsense! The Count of Monte Cristo relies on a romantic hero and I'm not giving him any jokes at all.
"The mechanicals - in the Shakespearean sense - will have the odd gag and silly business, but it'll be a completely different cheese from One Man, Two Guvnors.
"The really stupid thing for me to do next would to write a farce. [People would say:] 'Let's all go see if it's as good as Guvnors!' That would be a kind of brainless thing to do."
Guvnors' five Olivier nominations - including best new play - follow a string of other theatrical accolades.
It won the 2011 Evening Standard Award for best play alongside Bean's The Heretic, as well as the 2011 Critics' Circle Award for best play and 2012 Whatsonstage.com award for best new comedy.
A victory at the Oliviers could lead to another of Bean's memorable acceptance speeches which have kept audiences entertained during awards season.
"I feel a little bit guilty about winning the award for best new play with a 270-year-old comedy written by somebody else," Bean quipped when he picked up his Evening Standard prize last year.
"When Carlo Goldoni died he left his wife penniless," the former stand-up went on, leaving a delicious pause.
"And she's not going to get anything out of me either."
One Man, Two Guvnors is at the Theatre Royal Haymarket. The Broadway version opens at New York's Music Box Theatre on 18 April. The Count of Monte Cristo opens in December.