Bear Grylls sacked by Discovery Channel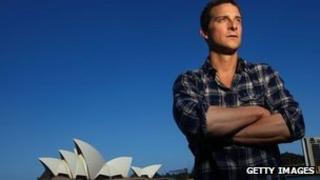 TV adventurer Bear Grylls, star of the survival show Man vs. Wild, has been sacked by the Discovery Channel.
The US channel said: "Due to a continuing contractual dispute with Bear Grylls, Discovery has terminated all current productions with him."
Grylls, who has presented the show since 2006, is known for eating insects and drinking animal urine in the wild.
His publicist confirmed the move saying they could not reach a "mutual agreement on new programming".
'Great risks'
Heather Krugtold the Hollywood Reporter: "Bear's goal has always been to make life-empowering shows for his many fans around the globe, and he has taken great risks to bring Discovery such award-winning programming over seven seasons.
"Unfortunately, Bear and Discovery have not been able to come to mutual agreement on new programming, and he disagrees with Discovery's decision to terminate current productions.
"Bear has loved the Man vs. Wild journey and looks forward to producing further cutting edge content again soon for his loyal audience."
Man vs. Wild, which is broadcast in the UK as Born Survivor, revolves around Grylls being dropped into remote parts of the world, and showing the audience how to survive using only materials he finds in the wild.
The show, which is now in its sixth series, is broadcast in nearly 200 territories around the world.
It attracted some A-list celebrity fans including actors Jake Gyllenhaal and Will Ferrell who tagged along on some of Grylls' adventures.
In 2008,he apologised for misleading viewersfor an episode which saw him supposedly abandoned in the wilderness - a programme consultant later claimed he had stayed in a motel.
"If people felt misled on how the first series was represented, I'm really sorry for that," Grylls told the BBC.
Writing on Twitter, Grylls said: "Super proud of my team and all they've built with Man Vs Wild. Looking forward to the next set of Adventures!! "
Thanking fans, he added: "Do not go where the path may lead, go instead where there is no path and leave a trail."
Grylls had also worked on another survival-based series for Discovery called Worst Case Scenarios, which placed him in the imagined aftermath of both natural and man-made disasters.
He continues to be the Scout Association's Chief Scout.