The Only Way Is Essex 'to be remade in US'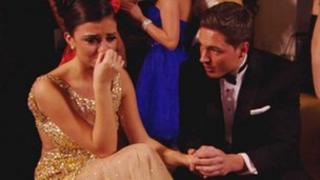 The makers of hit TV show The Only Way Is Essex have said they are "actively in discussions" to make one, or even two, US versions of the programme.
The "structured reality" show's creator Tony Wood said it could be recreated in Texas or Florida - or even both states.
The show is aired on ITV2 in the UK. Talks are also taking place to remake it in Australia, Germany and Finland.
"There are a number of territories that are interested in doing their own versions," Wood said.
The Only Way Is Essex, known to fans as TOWIE, has just completed its fourth series in the UK.
Described by Wood as a "living soap opera", it uses glossy production techniques normally found in dramas to follow the ups and downs of a real group of friends.
But the British version has not been shown on TV in the US - instead it has only been available on video website Hulu.
"We wanted an underground awareness of it simply because we would rather produce a [new] version of the show in America. And so we're talking about two different versions at the moment, which could co-exist," Wood said.
Speaking at the Nations and Regions media conference in Salford, he added: "We're currently looking at Texas and Florida."
TOWIE itself was influenced by US reality shows such as Laguna Beach and Jersey Shore.
The stars and their antics have been dismissed as trashy by some critics, but the show beat more highbrow competitors like Sherlock, Downton Abbey and The Killing to win the audience prize at the Bafta TV Awards last May.
The fourth series of TOWIE attracted about 1.3 million viewers per episode on their first transmissions on ITV2.
Despite not being shown on American television, the British version has already attracted attention across the Atlantic.
Last November, theNew York Timeswrote that it was "the most talked-about British television show of the last year", explaining that it was set in the "suburban precincts of southwestern Essex County".
But it added that the show had "been reviled in Britain as a pestilent example of depraved New World values and a leading indicator of the apocalypse".
The show, and the wider format, have also been met with scepticism by some who have questioned whether the events are real or whether the scenes and storylines are faked.
"There's a sense that it's a big con trick and it isn't, it really isn't," Wood said.
"The idea was to take the style of soap operas, of those shows to which the audience becomes addicted, but they [the cast] are leading it much more than we are."
Wood is creative director of the Liverpool-based Lime Pictures, which also makes Hollyoaks and Geordie Shore - which is itself a UK remake of the US show Jersey Shore .
He said no deals for foreign versions of TOWIE had yet been signed but that Lime Pictures would be likely to team up with local broadcasters or programme-makers to co-produce the US, German and Australian versions.