London 2012: Stockhausen helicopter opera to premiere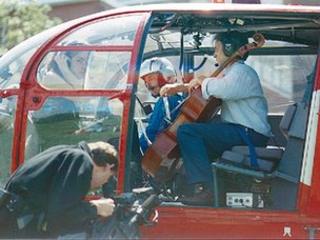 The first complete performance of German composer Karlheinz Stockhausen's opera Mittwoch aus Licht (Wednesday from Light) is to premiere this summer.
More than 150 performers will take part in the Birmingham Opera Company's five hour production, which will form part of the London 2012 Festival.
The opera includes Stockhausen's best-known piece, in which a string quartet plays live from four helicopters.
The performance will take place at Birmingham's Argyle Works in August.
Led by opera director Graham Vick, the production will also feature two choirs, flying solo instrumentalists, live electronic and acoustic music along with the helicopter string quartet.
Completed in 1998, Stockhausen's six-part opera has never been performed in its entirety, as the four component scenes were separately commissioned and premiered.
The last of the seven operas - one for each day of the week - Mittwoch (Wednesday) is the only part of the cycle the composer never saw staged before his death in 2007.
The complexities of staging it in full has always prevented it from being performed.
At the beginning of Helikopter-Streichquartett, the fourth part of the opera, the four musicians (plus sound technicians) are lifted into the air in helicopters and play to the audience via video link.
Their music is in part a reaction to the noise of the rotor blades and the pilots' movement.
Stockhausen's long-time collaborator Kathinka Pasveer, who is also serving as music director, said the composer "longed for its premiere up to his death".
"His vision is a musical expression of global harmony of love and collaboration in a united humanity. We are delighted and grateful that his dream is now becoming a reality," Ms Pasveer said.
London 2012 Festival director Ruth Mackenzie added: "The world premiere of this piece will be remembered by local, national and international audiences as a highlight of the festival."
The opera will be staged at the Argyle Works from 22-25 August.
It will also be broadcast live on The Space - a new digital arts media service run by Arts Council England and the BBC - which will be available on computers, mobiles, tablet computers and internet-connected TVs.