Diamond Jubilee song premieres at Westminster Abbey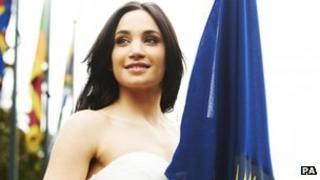 A newly-composed song to celebrate the Queen's Diamond Jubilee has been performed by soprano Laura Wright at Westminster Abbey.
Wright performed the song Stronger as One ahead of the Commonwealth Day of Observance, attended by the Queen and Prince Philip.
Composer Robert Hartshorne said: "I hope the Commonwealth and the world will like it."
The Queen cited the song in her annual message to the Commonwealth.
Wright was accompanied by the Reading Blue Coat School Choir.
Following the premiere, the song was made available for download, with a minimum of 50p from every digital copy going to the Queen's Diamond Jubilee Trust.
The Trust has been established to honour the Queen for her long service and aims to raise funds for charitable projects across the Commonwealth.
Wright, who is studying opera at the Royal College of Music, has already sold more than one million albums.
In 2005, aged 15, she won the BBC Radio 2 Chorister of the Year award for female voice.
She went on to become a member of quartet All Angels from its formation until June 2010, performing on three of their albums.