London 2012: West End theatre 'could be boosted by Olympics'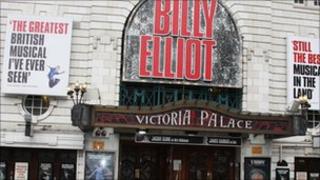 The London Olympics and Paralympics could boost West End box offices, according to a survey of theatre-goers.
In the Whatsonstage.com poll of more than 32,000 theatre-goers, 70% said they would attend as much or more than usual during the Games.
And two-thirds of respondents predicted the Olympics would help increase London theatre attendance.
In contrast, Andrew Lloyd Webber predicted the Olympics would force most London theatres to shut.
"Nobody's going to go to the theatre at all," the composer told Radio 4's Today programme in December.
"It's going to be very tough," he said, revealing advance bookings were "about 10%" of their normal level.
The musical Sweeney Todd, starring Michael Ball and Imelda Staunton, opens in the West End later this month and will take a break during the Olympics.
Mixed opinions
Terri Paddock, managing and editorial editor of Whatsonstage.com, said the theatre website's survey demonstrated that "audiences themselves are much more optimistic and plan to vote with their wallets at the box office".
Ms Paddock told BBC News: "We mustn't underestimate the appeal of the West End. The Olympics is not going to be as disruptive as we feel… life's not going to cease while these games are going on."
The minority of theatre-goers who said the Olympics may put them off going to see a show, added their minds could be changed in the run up to the games by reduced ticket prices (63%), assurance of smooth-running transport (41%), good seat availability (31%) and celebrity-led casts (18%).
Whatsonstage.com asked voters in its annual awards for their opinions on the Olympics debate.
Any member of the public can vote but the survey attracted those who already have a strong interest in the theatre.
Tim Rice, who wrote the lyrics for Lloyd Webber's first three musicals, told the Evening Standard in January he believed the Olympics would prove "a major benefit to the theatre world".
"I don't see why (the Olympics) should be anything other than a plus. There will be a lot more tourists floating around and I simply don't see why they would only want to see the Olympics," he told the London newspaper.
The Society of London Theatre (Solt) launched a campaign in January called Don't Miss The Real Show in 2012, which offers the public information and tips to help them "make the most of the theatre capital of the world during the Olympic period".