Whitney Houston's daughter Bobbi Kristina 'doing good'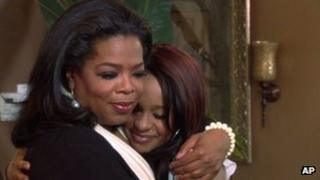 Whitney Houston's daughter Bobbi Kristina Brown has told Oprah Winfrey she "is doing as good as I possibly can" since her mother's sudden death.
In her first interview since Houston was found dead in the bath in her hotel room on 11 February, Brown, 19, said her mother is "always with me".
"Sometimes it's so surreal. I still walk into the house, like, 'Mom?' But I've accepted it," she said.
The interview was shown on Winfrey's US network OWN on Sunday.
Brown said family and God were helping her cope with her mother's death at the age of 48.
'My everything'
"It comes in waves. One moment I can be happy and laughing, but then it comes over me. It's my mom," she said.
Brown said she wanted to carry on her mother's legacy and become a singer, as well as act and dance.
She said the "negativity" surrounding her mother's image was not something she could relate to: "That's not my mother."
Instead, she described her as her confidante, a sister, her best friend and "my everything."
Pat Houston, the singer's manager and sister-in-law, and Gary Houston, the star's older brother, also appeared on Winfrey's show.
Pat Houston said the singer, who had a history of drug and alcohol problems, had not been using drugs in the days before she died.
She said the day of Houston's death had been uneventful, with the singer having lunch in her hotel - the Beverly Hilton - before getting ready for her mentor Clive Davis's annual party.
Gary Houston defended Houston's ex-husband Bobby Brown, Bobbi's father from claims that he introduced her to drugs.
"I loved Bobby Brown. Bobby was a good guy," said Gary Houston. "I don't know how good they were for each other," he added.
Both Pat Houston and Gary Houston also denied that their family had asked Brown to leave her funeral service and did not want him to come.
Brown attended the service briefly but left after a dispute over seating.
"Bobby was supposed to be there," said Gary Houston.
The cause of Houston's death will remain unclear until the results of the toxicology tests are announced later this month.
Houston left everything in her will to Bobbi Kristina, her only child.
Her daughter will receive part of the money after she turns 21. She will get more of her inheritance at 25 and the rest at the age of 30.