EL James' Fifty Shades of Grey tops New York Times list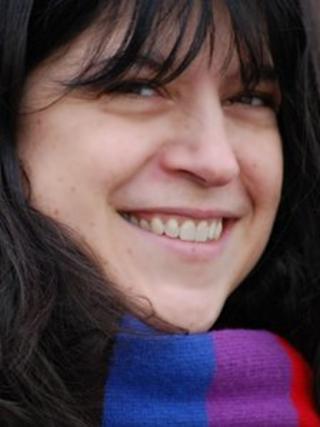 Erotic romance novel Fifty Shades of Grey, by previously unknown British author EL James, has topped the New York Times best-seller list.
A limited print run of the book, the first of a trilogy, has sold out while the majority of sales were of e-books.
James, a TV executive and mother-of-two from west London, has now signed a book deal in the US with Random House.
Her agent, Val Hoskins, said James was "overwhelmed" by the success of the "21st century word-of-mouth" hit.
The trilogy of stories - Fifty Shades of Grey, Fifty Shades Darker and Fifty Shades Freed - tells the tale of a steamy romance between "successful young entrepreneur" Christian Grey and "unworldly, innocent" literature student Anastasia Steele.
The three, published by small virtual publishing house The Writer's Coffee House, based in Australia, have sold more than 250,000 copies and have become the talk of the US literary community.
Random House's offprint Vintage Books will release new e-book versions of the trilogy on Monday while 750,000 paperback editions have been ordered.
In a statement released by Vintage, James - who is trying to keep her full name a secret - said Fifty Shades of Grey had taken her on "an extraordinary and wholly unexpected adventure".
"I've heard from so many readers trying to find these books in their local bookshops and libraries.
"It is gratifying to know that they will soon become widely available in the US and around the world."
Fan fiction
Ms Hoskins told the BBC News website that word of the book had spread "both through social media websites, like Facebook, and friends talking to one and another".
"And also, physical word of mouth where women gather and talk to one and other at exercise classes or hairdressing salons."
The New York Times' Julia Bosmansaid the books had been credited with "introducing women who usually read run-of-the-mill literary or commercial fiction to graphic, heavy-breathing erotica".
The book started life as a "fan fiction" story posted online about lovers Edward and Bella - the lead characters in Stephenie Meyer's Twilight books which went on to become hugely successful films starring Robert Pattinson.
Vintage said that, after that story become popular, James "re-wrote the work with new characters and situations".
Jamestopped the New York Times best-seller listfor combined print and e-book fiction for the week ending March, beating titles by the likes of Jodi Picoult and Stieg Larsson.