BBFC anniversary: How banned horror film Island of Lost Souls got a PG rating
By Tim Masters
Entertainment and arts correspondent, BBC News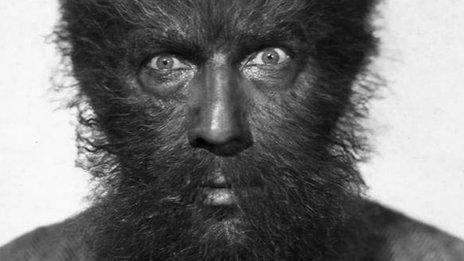 As the British Board of Film Classification (BBFC) celebrates its 100th year, its director David Cooke reflects on some of the films that have challenged the censor over the decades.
TheBBFChas refused classification to almost 1,000 films since it came into being in 1912.
While some will remain forever banished, others have made the remarkable journey towards respectability.
One of the best examples is 1932's Island of Lost Souls, the first non-silent screen adaptation of HG Wells' Island of Dr Moreau, starring Charles Laughton and Bela Lugosi.
Originally rejected in 1933 - and again in 1957 - the film was eventually classified with an X certificate with cuts in 1958. In 1996 these cuts were restored and the film gained a 12 certificate.
In 2011, it was resubmitted for anew DVD/Blu-ray releaseand waspassed as a PG- making it viewable by younger children, though it carries the warning: "Contains mild violence and scary scenes".
"When we had to classify it again last year, we went for PG on the basis of the comparison with the Doctor Whos and the Harry Potters," explains BBFC director David Cooke.
It is in Cooke's office in London's Soho Square that plans have been hatched for the BBFC's centenary year, including a special BBFC film season at theBFI Southbank.
The season will bring together a diverse range of movies that have raised classification issues over the past century.
Island of Lost Souls is the earliest film on the list, which includes Blackboard Jungle (1955), The Killing of Sister George (1969), The Devils (1971), Enter The Dragon (1973), Irreversible (2002), and The Boy in the Striped Pyjamas (2008).
A book charting 100 years of classification is also scheduled for the autumn.
Meanwhile, UK cinemagoers are seeing retro-style theatrical black cards - bearing Cooke's signature - ahead of all 2012 cinema releases.
So how did Island of Lost Souls survive the censor's scissors to become a PG?
The precise reasons for its rejection in 1933 were lost when BBFC records were destroyed during World War II, explains Cooke.
"There are themes to do with vivisection, animal experimentation and animal hybrids and it looks as though that was regarded as completely beyond the pale in 1933."
The story sees Edward Parker (Richard Arlen) shipwrecked on an isolated South Seas island, where he discovers Dr Moreau (Charles Laughton) is conducting sadistic experiments to transform animals into humans.
In 1932, an H for horror category had been introduced but Island of Lost Souls wasn't even regarded as suitable for that.
"There was no one set of guidelines from the early days," explains Cooke. "Some of them are very alien from the kind of things we would have now. Things like no mixed bathing, no lascivious dancing."
To achieve its X rating in 1958, Island of Lost Souls took a number of cuts.
These include the removal of Parker's line: "They're vivisecting a human being. They're cutting a man to pieces!" and the sight of Moreau's "less successful experiments" walking on a treadmill.
"Some films manage to pack a real punch after a very long time, and other films just don't - and I think this is in the latter category," says Cooke.
"Our view now is that if you compare it with the PG Harry Potters let alone the 12A Harry Potters or the PG Doctor Who it looks quite tame in comparison."
He adds: "You get this with the so-called video nasties from the 80s - some of them still look pretty awful to this day, and some of them have dated a lot and it has extracted their venom."
An adaptation of Jim Thompson's 1952 crime novel, the film starred Casey Affleck, Kate Hudson and Jessica Alba.
The film's violence - particularly against female characters - led to walkouts and accusations of misogyny. One scene sees Jessica Alba's character beaten in the face until she is unrecognisable.
The BBFC's consumer advice warned of "very strong violence, sadomasochistic sex scenes and child abuse".
"It was absolutely clear it wasn't porn. The crucial thing was how it matched up against our sexual violence policy," says Cooke.
"We are still more vigilant on sexual violence than on anything else, based on public consultation and academic research.
"One of things that can save scenes of sexual violence is if it is clearly aversive - or off-putting. And we took the view that that is the case with The Killer Inside Me."
Since 2000, the BBFC's guidelines have taken into consideration the context of each individual work. The guidelines are reviewed on a regular basis after public consultation, most recently in 2004.
"We get a consistent finding now that two-thirds of the public think that adults should be free to make their own decisions what to view provided that it's not illegal or harmful," says Cooke.
Cooke, who took over as BBFC director in 2004, says the BBFC anniversary "provides an opportunity to look both back and forward".
"I would never say never on changing classifications. It takes a while for people to get used to age ratings, so it's a good idea not to change them too often."
Citing the example of the 12A, introduced in 2002, he says: "Even when I arrived seven years ago, the 12A was still not very well understood. People weren't sure what the A stood for.
"It is now much better understood thanks to some very big films where there have been controversies, like The Dark Knight or War of the Worlds."
The advantage of the 12A, he points out, is that it enables parents to take their own view on whether their own child is ready.
"You shouldn't mess around with that sort of thing too lightly."
List of films in BFI Southbank Season in November 2012 (more to be announced)
ISLAND OF LOST SOULS (1932)
Current classification: PG
Classification issues: horror, the film was initially rejected by the BBFC before being passed X after cuts in 1958.
NO ORCHIDS FOR MISS BLANDISH (1948)
Current classification: PG
Classification issues: social issues and threat. The work was passed by the BBFC but received strong criticism for its treatment of violence and sexuality.
Current classification: 12
Classification issues: Juvenile delinquency. The film was initially rejected by the BBFC before being passed X after cuts.
THE KILLING OF SISTER GEORGE (1969) - 18
Classification issues: lesbian theme and the public's reaction.
Classification issues: violence and sexual violence.
SHOCK CORRIDOR (1963) - 15
Classification issues: portrayal of mental illness, the film was initially rejected by the BBFC in 1963.
THE DEVILS (1971) - 18 (with cuts)
Classification issues: blasphemy, not yet classified uncut.
ENTER THE DRAGON (1973) - 18 (without cuts)
Classification issues: martial arts, weaponry, specifically the use of chain sticks.
MAITRESSE (1976) - 18 (all previous cuts waived)
Classification issues: BDSM, initially the film was rejected by the BBFC before being passed X with cuts.
SICK - THE LIFE & DEATH OF BOB FLANAGAN, SUPERMASOCHIST (2001) - 18 (uncut)
Classification issues: non-fiction, illness, imitable techniques.
Classification issues: strong violence, sexual violence.
THIS IS ENGLAND (2007) - 18
Classification issues: race, violence, and the public reaction to the BBFC decision.
THE BOY IN THE STRIPED PYJAMAS (2008) - 12A (12 Video)
Classification issues: scenes of Holocaust threat and horror
THE KILLER INSIDE ME (2010) - 18
Classification issues: very strong violence, sadomasochistic sex scenes and child abuse.
Tickets on sale from 9 October
Related Internet Links
The BBC is not responsible for the content of external sites.