War Horse bucks trend as print book sales fall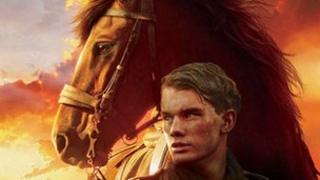 The number of print books bought in the UK last year has fallen by 13%, amounting to roughly £15m in revenue, according to Nielsen BookScan data.
The worst hit section of the market was adult fiction, which dropped by 24%.
Non-fiction was also down 14%, with children's and young adult books the least affected, falling 9% - buoyed by the success of books like War Horse.
The recession, the rise of the e-book reader and the decline of the high street bookshop have been blamed.
The annual figures are measured from February to February.
Nielsen BookScan analyst David Walter said: "We saw consistently throughout 2011, and now into 2012, that Adult Fiction sales are falling faster than the rest of the market.
"This is being widely interpreted as the impact of sales moving over to e-books from physical book formats for Adult Fiction more than other genres initially."
David Nicholls' One Day was the number one title for 2011, with the film tie-in edition coming in at number seven.
The combined sales for both versions totalled over 976,000 copies, which raked in a value in excess of £5.3m.
The Christmas market saw Jamie Oliver dominate the non-fiction chart, with two titles featuring in the top 10.
In the children's department, five titles from Jeff Kinney's Wimpy Kid series are inside the top 20, including the latest addition Cabin Fever - which was published in November 2011.
The first in the series was recently voted the Best Children's Book of the Last ten Years by Blue Peter fans -