Guercino painting The Samian Sibyl to remain in the UK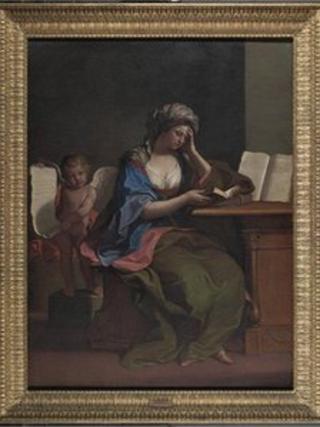 A painting by 17th Century Baroque artist Giovanni Barbieri, best known as Guercino, is to remain in the UK after being acquired for the nation.
The Samian Sibyl was transferred to public ownership through the Acceptance in Lieu Scheme, which allows artwork to be off-set against inheritance tax.
It will go on display at the National Gallery in London from 8 March.
Culture Minister Ed Vaizey said he was "delighted" to receive the painting.
"This stunning painting, with its fascinating history, is a brilliant example of the success of the Acceptance in Lieu scheme and it is wonderful that this arrangement continues to bring masterpieces like this into public collections, " he said.
The Samian Sibyl was commissioned by Giuseppe Locatelli, an Italian nobleman, as one of a pair of paintings to depict the Biblical King David and a Sibyl - one of the pagan priestesses who foretold the birth of Christ.
The Arts Council said the painting was a "superb example" of Guercino's late style.
The Italian artist, nicknamed Guercino or "squinter" for his cross eyes, was highly esteemed in his lifetime and was famed for the speed with which he worked, finishing more than 140 works before his death in 1666.
He was also noted for his many drawings.
The painting will remain at the National, until a decision has been made on where it will be hung permanently.
The Acceptance in Lieu scheme was created in 1910.
Last year, a drawing of Venus rising by Rubens, artworks by Walter Sickert and a note written by Gandhi were left to the nation through the scheme.