John Cusack tackles Edgar Allan Poe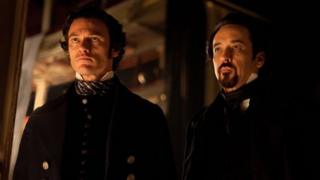 John Cusack sits in a posh London hotel room, amid the aroma of expensive cigars, looking a tad weary.
He's had a full day of interviews with journalists promoting his latest film, The Raven.
Yet the 45-year-old is bordering on playful.
He adjusts his formal position in his armchair and moves to sit sideways with his right leg slung over one arm.
Cusack - who has had no major UK cinema hit since 2010's Hot Tub Time Machine - is here to talk about his new role as acclaimed gothic author Edgar Allan Poe.
'Paradoxical qualities'
Directed by V for Vendetta's James McTeigue, the film gives a fictional account of the last five days of Poe's life, and follows the author as he helps track down a serial killer inspired by Poe's macabre works of fiction.
Cusack says it was a challenge to portray the 19th Century author, who was known to be both obnoxious and yet likeable at the same time.
"He had so many paradoxical qualities: he was courageous, weak, vain and yet incredibly romantic," he says.
Cusack is modest about his ability to deftly switch between all of Poe's personality traits: "A lot of it has to do with great source material," he says.
"I always think a great scene is when there's two or three conversations happening at once - there's the dialogue, then there is what's happening underneath through body language, and then what the character is really feeling - which he may not even be aware of.
"That's really complex writing and acting."
The star immersed himself in all of Poe's writings and biographies to prepare for the role and shed 25lb (11kg) in an effort to look more Poe-like, although he already shares some facial similarities to the author.
Can he see the resemblance himself? "A little bit, but not much," he says. "He had sort of a crazy high brow and angular face."
Sequels
Although Cusack has been absent from UK screens recently, The Raven is the first of at least three films the actor will be starring in this year.
He plays a serial killer in The Frozen Ground, opposite Nicolas Cage, and a death row inmate in The Paperboy - which also stars Zac Efron and Nicole Kidman.
Having shot to fame in 1989's Say Anything - in which Cusack starred as defiant teen Lloyd Dobler, who memorably holds a stereo aloft - the actor is known for his indie roles.
With films like High Fidelity, Grosse Pointe Blank and Being John Malkovich on his CV, the star has never made a sequel.
"I'm in the unenviable position of trying to sell out and failed," he jokes.
However, he says he would star in a rumoured sequel to 1997 hit action-thriller Con Air, "but no-one's offered it to me".
And while many of Cusack's contemporaries - including Charlie Sheen, Rob Lowe and Kiefer Sutherland - have since turned to television to forge careers, the star says he's never been tempted.
"I'm not a great fan of making art by committee," he says.
"What I really loved about The Raven was that it was independently financed, so I felt like it was me and James McTeigue making the movie.
"Of course there are more people on set, but creatively and tonally... you don't have to satisfy a group of people.
"The idea of having a group of TV network people come in a tell you how you're going to do the scene - I don't think that would be right for me.
"Maybe it's not like that any more, but I've heard a lot of horror stories," he adds.
Twitter experiment
Typically, Cusack prefers to stay out of the spotlight and isn't a fan of the celebrity culture that surrounds actors.
Yet, over the past six months, he's become surprisingly active on Twitter: sharing pictures, his views on politics and general musings. Why?
"It's an experiment for me because I don't know where it's going to go," he says.
"But what I like about it is, if there are people who like my movies and want to know about The Raven, I can talk to them directly.
"People ask me what do I listen to, so I can say here's some Regina Spektor - and it's like playing someone a record, so that's cool.
"There's so much information out there. There are wonderful thinkers, and people who write and do all these things, but people don't know where to find them.
"These are things I like and believe in, so why not put it up there? I think it's cool and democratic and subversive."
On the practical side, Cusack is all too aware of the benefits Twitter can bring a Hollywood actor.
"[The industry] is a nasty business. If I can get people to stay interested in my movies and I can talk to them directly, then it just seems smart," he says.
"I'm also trying to figure out what that means to the longevity of your career - having that direct access to people who are supposedly your fans.
"Maybe they're not, maybe they're 800,000 people who don't like me."
The Raven is released in UK cinemas on Friday 9 March.