Rock guitarist Ronnie Montrose dies at the age of 64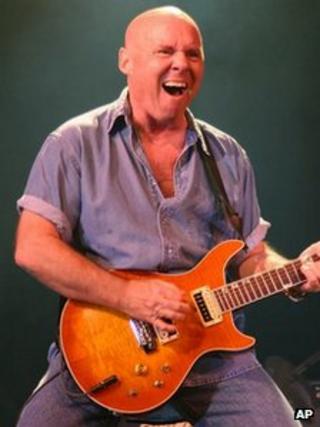 Rock guitarist Ronnie Montrose, who performed with artists including Van Morrison, has died at the age of 64.
His booking agent, Jim Douglas, says he passed away at his home in California on Saturday.
Mr Douglas said he had been battling prostate cancer and "personal demons."
In 1973, he formed a band named after himself, but also performed with a number of rockers, including Sammy Hagar, Herbie Hancock, Boz Scaggs and the Edgar Winter Group.
Montrose was working on releasing his first DVD and was about to embark on a tour later this month that would have taken him across the US, Mr Douglas said.
Montrose was born in Denver, Colorado, and got his first break when he was invited to play on Van Morrison's 1971 album, Tupelo Honey.
"The guy was such a legendary figure for so many people," Mr Douglas said. "He influenced so many bands."
Montrose proved influential as a number of his songs were covered by other rock acts, including Iron Maiden, who covered I've Got the Fire and Space Station 5.
Van Halen covered the songs Rock Candy and Make It Last during their early club days.
A statement on his official websitesaid: "A few months ago, we held a surprise party for Ronnie Montrose's 64th birthday. He gave an impromptu speech, and told us that after a long life, filled with joy and hardship, he didn't take any of our love for granted.
"He passed today. He'd battled cancer, and staved off old age for long enough. And true to form, he chose his own exit the way he chose his own life. We miss him already, but we're glad to have shared with him while we could."
Montrose is survived by his wife, Leighsa, as well as a son, a daughter and five grandchildren.