Vermeer masterpiece set for Amsterdam return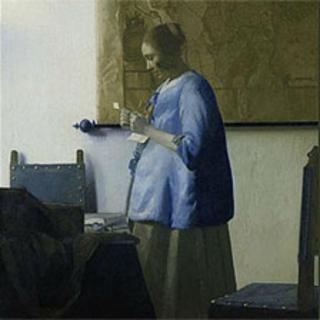 A newly restored painting by the Dutch master Vermeer will shortly return to the Rijksmuseum in Amsterdam following a tour of Japanese galleries.
It will be the first time visitors will have the chance to see Woman in Blue Reading a Letter at the world-famous institution since its 2010 restoration.
The removal of varnish and retouches have allowed the work to regain its "cool tones",The Art Newspapersaid.
The painting is due to be unveiled at the Rijksmuseum on 30 March.
Painted between 1663 and 1664, the work shows a young woman illuminated by light from what is presumably a window.
The Rijksmuseumwebsiteinvites us to admire the "subtle gradations of colour" and the way Vermeer "adjusted the balance... by playing with the areas of light and shadow".
In return for a contribution towards its restoration costs, the painting has been recently exhibited in Kyoto, Sendai and Tokyo.
Along with Rembrandt and Frans Hals, Johannes Vermeer (1632-1675) is considered to be one of the greatest Dutch artists.
Only 36 of his paintings survive, among them his 1665 masterpiece Girl with a Pearl Earring - the inspiration for a 1999 novel by Tracy Chevalier and a 2003 film starring Colin Firth.