John Cusack on board for Con Air sequel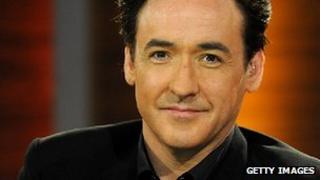 Hollywood actor John Cusack has said he would star in a sequel to the 1997 action thriller Con Air.
The star, who played US Marshal Vince Larkin in the film, told the BBC News website making a second film "would be fun".
"I'll do it, but no one's offered it to me," Cusack added.
Director Simon Westsaid last yearhe was keen to make a sequel and reunite Cusack with co-stars Nicholas Cage and John Malkovich.
"It'd be great. It's a matter of getting everybody together," West said, at the time.
Last month, Cage has also said that a Con Air sequel would be "interesting".
It had been rumoured some years ago that a sequel had been in the pipeline, but Cusack said he had "never heard anything about it".
The actor, who is currently starring in Edgar Allan Poe thriller The Raven, has just finished filming with Cage on another movie, in which Cusack plays a serial killer.
"I hadn't seen him for years, but we just did [new film] The Frozen Ground - the subject matter was really dark, but it was nice to see and hang with him," Cusack said.
Con Air centred on a newly-released ex-con, and war hero, who is trapped on board a prisoner transport plane when it is taken over by the passengers. It also starred Steve Buscemi and Ving Rhames.
The film took more than $200m (£126m) at the box office worldwide when it was released in 1997, and was nominated for two Oscars including best song for How Do I Live, made famous by LeAnne Rimes.
A full interview with John Cusack on his new film, The Raven, will be published next week.