John Peel honoured at new BBC building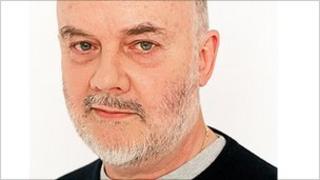 The BBC is to rename part of its central London headquarters after the late Radio 1 DJ John Peel.
Director General Mark Thompson said the Egton Wing, part of BBC Broadcasting House, would be re-named the Peel Wing.
The site is the former home of Radio 1, where Peel broadcast for much of his career, introducing generations to his eclectic, esoteric choice of new bands.
Mr Thompson said it was "a fitting tribute to a man who personified so much of what the BBC stands for".
Radio 1 staff and studios are due to move from their current home in Yalding House to the newly refurbished Broadcasting House this autumn.
The wing will serve as the main entrance to the station - which will be housed on the eighth floor at the top of a large new extension to the building.
"John was one of the BBC's great radio talents," Mr Thompson said.
"With a reputation for being in the vanguard, he was widely recognised as a champion of new music, supporting punk, reggae and hip-hop before they went mainstream.
"John's death in 2004 was sudden and shocking, however his legacy lives on today not just in the UK, but around the world - he was a great ambassador for the BBC," he added.
Peel began working for a radio station in Dallas in the 1960s, followed by a spell on pirate station Radio London, before moving to Radio 1 in 1967.
In addition to his Radio 1 show, he could also be heard on the BBC's World Service, Radio 4's Home Truths and Top Of The Pops.
An influential champion of new music, he helped launch the career of acts from David Bowie, through to Joy Division and the White Stripes.
He was appointed OBE in 1998 and earned a place in the Radio Academy Hall of Fame.