Gotye: 'I nearly scrapped my number one record'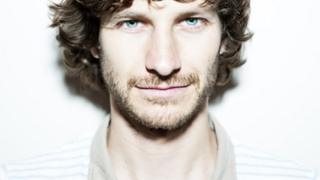 Australian musician Gotye scored a global number one with Somebody That I Used To Know but he tells the BBC the song was almost left unfinished.
In an era when professional recording equipment can be bought for spare change, it's not unusual for hit records to be created on laptops in bedrooms.
Gotye got a better deal.
After his second album made him a household name in Australia, he set up a recording studio in a barn built by his father on the family's remote 13-acre farm in Southwest Australia.
It took him more than two years to piece the record together, thanks to his obsession with found sounds and obscure vintage synthesizers, but it led to the biggest hit of his career.
Somebody That I Used To Know, a hypnotic, xylophone-driven heartbreak duet, has so far reached number one in 13 countries, including the UK.
Thevideo, in which Gotye and guest vocalist Kimbra appear nude, covered in body paint, has been watched more than 94 million times on YouTube.
"I didn't anticipate it," the 31-year-old says. "Not at all. Not the chart success. Not having a pop single around the world. Not at all."
In fact, there was a period when he was "ready to give up" on the song.
"It was challenging to finish," he admits. "I hit a brick wall after I hit the first chorus, and it took me a few weeks to decide if I should write the second verse from a female perspective.
"But I stuck with it, and I was really proud once it was finished."
He is reluctant to analyse the song's success but suggests the lyrics, in which two former lovers trade accusations ("you didn't have to cut me off"), contributed to its attraction.
"It seems to appeal to people who, unfortunately, have very confused, broken relationship experiences," he laughs.
Stage name
Born in Belgium, Gotye was just two years old when his parents moved to Australia.
"They had very minimal English when they arrived," he says. "Mum started to learn when I was three, by watching television with me - Sesame Street and Play School."
By this stage, he was already known as Gotye (pronounced Gaultier, like the fashion designer). The moniker is a French translation of his Flemish birth name, Wouter.
"It's what my mum would call me as a pet name," he explains.
As he grew up, Gotye's parents listened to the folk music that reminded them of home, but they allowed him to follow his own passion for pop music and, in his teens, grunge and metal.
"There's a certain strand of heavy metal that appeals to teenage boys because there's a purity, a mathematical quality," he says.
"Playing it is almost athletic. You earn your stripes by the level of skill or speed you can attain."
In school bands, Gotye played the drums - trying to mimic the intricate double-kick drum patterns of "super-nerdy progressive metal" groups like Dream Theater and King's X.
"But at some stage in my early 20s I became more interested in writing songs and producing," he says.
"I was buying music in thrift shops for 50 cents a pop, and finding... well, often a lot of crap records, but also a lot of music I never knew existed.
"A lot of ethnic music. I like finding those sounds on the margins, usually quite daggy sounds."
"That directly fed into stuff I was sampling."
Sampling has been the bedrock of Gotye's career. But, rather than recycling other people's drum loops and instrumental breaks, he tracks down sounds that intrigue him and manipulates them into new, unrecognisable instruments.
Take, for example, the spooky tremolo that crops up between the verses of Somebody That I Used To Know.
"People think it's a synthesizer but it's actually from a classical guitar record," he says.
"I created the vibrato manually by touching my fingers on the turntable as I was recording it into the computer. Then I chopped it up into 20 or 30 notes, and laid them out across the keyboard.
"After that, I came up with the melody and played it back, using a few of those notes, to become that part in that song."
It sounds like an enormous effort for a simple five-note riff, but this attention to detail is what makes Gotye's patchwork pop stand out.
"People say, 'you're obviously a perfectionist', and If I feel like that's what's required then, yeah, why not? But sometimes it happens really quickly.
"I have no problems about going, 'great, this song's finished, I don't want to touch that any more'. That doesn't mean there aren't mistakes, or vocals that are out of tune, or things that couldn't be finessed further.
"But when I get whatever peculiar combination of sound and expression I want, it's done."
Tour troubles
Playing live in London's Shepherd's Bush Empire, Gotye applies the same methodical approach.
Each song comes with a specially-commissioned animation, while the five-piece band are drilled to perfection. Gotye and his percussionist even pull off a perfectly-synchronised drum solo towards the end of the set.
But, in the midst of all the excitement and kinetic energy, the musician makes a comment that exposes an underlying unease with playing live.
"This is our last show in London for quite a while," he informs the crowd, some of whom begin to boo.
"That's alright," he continues. "You can still listen to the records. They're magical. They happen again and again."
Backstage, he admits touring distracts him from making music.
"I don't have the time to be that guy. I don't have time to play with stuff, which can be disappointing," he says.
But with his current record lodged in the UK and US Top 40, Gotye will be on the road for the foreseeable future.
"It would be great if I could do another record in the next year," he sighs.
"But knowing myself, and what it's taken to make records in the past, I kind of doubt I'll have another one in the next two or three years."
Gotye's album, Making Mirrors, is out now on Island Records.