London 2012: Thousands of performers in UK take part in Music Nation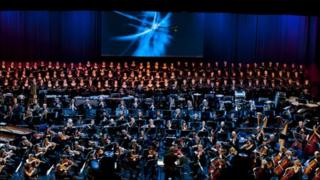 Thousands of musicians around the UK have taken part in Music Nation weekend, the first nationwide countdown event to the London 2012 Festival.
Some leading UK orchestras and choirs played in more than 100 events.
Highlights included the first joint performance by the Ulster and RTE Concert Orchestras, violinist Nicola Benedetti playing in Glasgow and Seth Lakeman on stage in Plymouth.
A total of 18 new works were performed during the weekend's proceedings.
More than 65,000 free and paid for tickets were made available and the weekend included jazz, folk, urban and world music, alongside the orchestral pieces.
Workshops and tutorials will also be held to give people the chance to take part.
Saturday's big events took place in Plymouth, Glasgow and at London's Barbican Centre.
BBC reporter Beth Rose was one of 270 adults and children who playedas the Devon and Cornwall Family Orchestra performed the world premiere of Tim Steiner's 'Hunter Gatherer' alongside the BBC Concert Orchestra at the Plymouth Pavilions.
Lakeman sung six of his tracks which had been given a fresh new take by Oscar-winning composer and arranger Anne Dudley.
In Scotland, Olympic heroes Allan Wells, David Wilkie and Liz McColgan were present for the Sporting Fanfare concert, which to mark the London Games featured a series of sporting themes.
At the Barbican, Ms Dynamite and Fazer from N-Dubz were among the performers at the Urban Classic, which also featured special arrangements of grime, hip hop and classical music.
On Sunday, the historic link-up between the Ulster and RTE Concert Orchestras took place at Belfast Waterfront.
The highlight of the BBC National Orchestra of Wales' performance in Cardiff was the world premiere of 'Songs of the Earth' by Karl Jenkins, specially commissioned by the BBC and written for the concert. The orchestra were joined by more than 250 singers from around the country for the piece.
At Camden's Roundhouse in London, The Choir live featured Voices Now, the BBC Singers and more choirs.
The London 2012 Festival is the finale of the Cultural Olympiad and runs from 21 June to 9 September, the final day of the Paralympics.