Sian Williams to rejoin Radio 4 from BBC Breakfast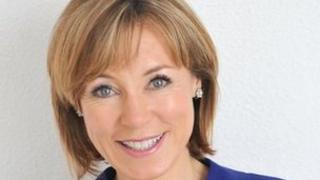 BBC Breakfast presenter Sian Williams is to rejoin Radio 4, as co-host of a revamped and extended Saturday Live.
Williams, who will leave the morning television show ahead of its move to Salford, will also present BBC One news bulletins and co-host Olympic coverage.
The presenter chose not to relocate north because of family commitments.
"The opportunity to host Saturday Live with Reverend Richard Coles is too good to miss," said Williams. "It's a warm and witty way to start the weekend."
Williams' co-host Bill Turnbull will continue to front the BBC's flagship breakfast show, with Susanna Reid, when it moves to the BBC's northern headquarters in the spring.
Williams will make her final appearance on BBC Breakfast on 15 March, after 11 years sharing the sofa with Turnbull. She begins work on Saturday Live in May.
The 46-year-old presenter began her career in local radio, before moving to Radio 4 where she was a producer for seven years.
"I'm thrilled to be coming home to Radio 4," said Williams.
Saturday Live presenter, the Reverend Richard Coles, said: "Many a morning I have spent watching Sian on BBC One, so I am greatly looking forward to sitting across the table from the real version on Saturday mornings for Radio 4.
"Emerging rumours of a tempestuous affair I will neither confirm nor deny."
The award-winning Saturday Live will be extended from an hour to 90 minutes, with John McCarthy and Sandi Toksvig - formerly of Excess Baggage - joining the show.
"Extending Saturday Live is an idea I have had brewing for quite some time and Sian has been part of my thinking from the start," said Radio 4 controller, Gwyneth Williams.
"She is someone I know the Radio 4 audience will take to their hearts."