Royal Opera House shrugs off first-night catcalls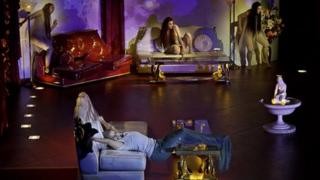 The Royal Opera House has shrugged off the boos and walkouts that greeted a modern-dress staging of a Dvorak work.
"It is OK to have divided opinion when you try to move the boundaries," said director of opera Kasper Holten.
The decision to set Rusalka - a version of The Little Mermaid - in a brothel populated by provocatively dressed prostitutes perplexed some critics.
"Girls run around in their scanties... and it's all quite nasty," wrote Rupert Christiansen in theDaily Telegraph.
"Imported from the Salzburg Festival, it is a prime example of the pompous intellectualism which now dominates eurozone theatre."
His sentiments were echoed byThe Guardian's Andrew Clements, who called the production "an unedifying exercise in postmodern, operatic grunge".
The Times' Richard Morrison also expressed reservations, describing the staging as "crass, profoundly anti-musical and... mind-numbingly tedious".
First staged in 1901, Rusalka tells of a water nymph in love with a prince who gives up her voice in order to be human.
It is often likened to the Hans Christian Andersen fairy tale The Little Mermaid, famously turned into a film by the Walt Disney studio in 1989.
In a statement, Mr Holten admitted there had been some booing on Monday night but said there had been "people shouting bravo at the same time".
"This is not uncommon in opera," said the Danish director, who was appointed last year.
According to Mr Holten, the production of Rusalka - first presented at Salzburg in 2008 - "does not try to pretend [it] is just a pretty innocent story".
"It shows us that a fairy tale can also be about the darker aspects of life, and for me it highlights the pain and longing in the piece," he continued.
"We hope audiences will bring along their curiosity and expect to be surprised and challenged, made to think about new aspects of this well-known story."
The critics were more complimentary to other aspects of the production. Christiansen, for example, applauded Camilla Nylund's "committed performance" in the title role.
Morrison, meanwhile, found US tenor Bryan Hymel "fervent and impressive" as the Prince and praised the music's "sensuous sweep".
Mr Holten said the Royal Opera House was "proud to be presenting such a wonderful cast... who all wholeheartedly believe in and support the production".
Five additional performances of Rusalka are planned between now and 14 March.