James Vincent McMorrow's patient progress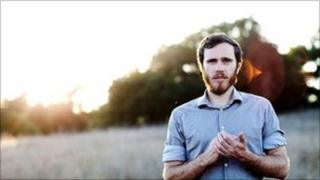 More than two years after he recorded it alone in a house on the Irish coast, the debut album by singer-songwriter James Vincent McMorrow is still gathering pace through word-of-mouth interest.
When McMorrow toured the UK last October, he was playing venues that held about 500 people. By the time he came back in February, his stops were at least twice that size.
That sold-out tour, which culminated with a gig at the Royal Festival Hall in London (capacity 2,500), highlighted how fast McMorrow's fanbase has grown.
It is now a full two years since his debut album Early in the Morning emerged in the Republic of Ireland, his home country.
Fans have since been waking up to the allure of his tender, heartfelt songs - boosted in recent months by the use of his cover of Steve Winwood's Higher Love in a TV advert.
"I think if you were to look up the dictionary definition of 'word of mouth', it would probably say 'see James's record'," he says.
"Every day it gets a little bit bigger. From day one I've been travelling and playing, and every time I came back to a place there were a few more people.
"It's quite gratifying when people come up to me and tell me they heard the album through somebody who heard it through somebody. That's the way music should go, I think."
When the 29-year-old first started making music, it looked like his rise to fame would be slightly swifter after an early demo CD found its way into the hands of record labels and music publishers.
"I went from nought to 60 quite fast," he explains. "The first show that I ever played in my life was populated by A&R [talent scout] people from the UK, which was quite a strange thing and a dangerous precedent for myself.
"I moved to London with this really warped sense of expectation. I thought this was how it goes, this is how you dream it's going to happen. I put the cart before the horse and didn't think about making music at that point.
"I thought 'Oh I'll just make a record' - like it was this assumed thing that would inevitably happen."
'Wrong track'
When he eventually did go into the studio, he discovered it was not quite that easy.
"I knew in the back of my mind that I was on the wrong track, but it was only when I physically went in and tried to commit to making a record that it 100% did not work," he says.
So, penniless and defeated, he returned to Ireland.
"The only thing that's ever made sense to me has been sitting in the house by myself making music," he continues. "Not going into studios and bringing in producers and the things you assume have to get added. Once I took all that away, it was clear."
His revelation led him to a house on the east coast of Ireland, where he stayed rent-free for six months, writing and recording alone, playing every instrument on the songs that would make up Early in the Morning.
Living up to a romantic image of the solitary artist in his windswept retreat, this story has taken on semi-mythical status after being recounted in every interview for the past two years.
TV exposure
It also lends itself to convenient comparisons with Bon Iver, his US counterpart whose debut album, recorded in a remote cabin in Wisconsin, went on to find global acclaim.
But it is more than just a lazy comparison - the pair are also good musical matches, while McMorrow has also been likened to Jeff Buckley and Damien Rice.
"I like working by myself," the singer says. "I get very easily led so I certainly didn't want other people around. Having other people's voices in the mix always made me water down my ideas and then I was unhappy.
"So I thought, well, if there's no-one around and no-one to help me, it will take longer, but it will be 100% mine for better or worse."
Soon afterwards, a demo version of one track was quickly picked up for the soundtrack of US TV drama One Tree Hill. McMorrow says: "I haven't watched it myself but I'm grateful to it forever." He should be - the fee paid for the release of Early in the Morning.
Since then, glowing reviews, the odd Irish award nomination, an appearance on BBC Two's Later... With Jools Holland and the Lovefilm advert have helped fuel the steady trajectory.
The only problem with such slow-burning progress is that he now needs to start work on the follow-up while people are still discovering the debut.
"The fact that all these shows were full means there are obviously people that are coming to the record and I'm not going to cut it off, but at the same time the notion of four- or five-year album cycles have never sat well with me. I want to make things," he says.
The singer is now taking a two-month break from playing live to restart the recording process.
"Again, I looked at studios and looked at the idea of making a record that way," he says. "But the notion of a clock on the wall was not sitting well with me. So again I've ended up in a house. A different house."