The Voice singing contest show goes back to basics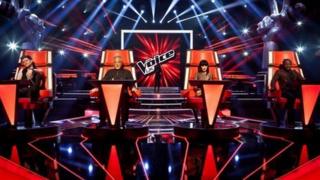 In recent years TV talent shows have dominated prime time television in various formats, but the BBC says its new offering The Voice UK will offer a completely new approach.
The series, which starts on 24 March, features Sir Tom Jones, Jessie J, Will.i.am and The Script's Danny O'Donoghue as coaches to the contestants.
Producers are keen to emphasise they are coaches and not judges "unlike other shows".
The premise of the series, which has already been successful in the US, is to find a pop star based solely on their singing voice.
At the end of the 11-week process, the winner is given a record deal with Universal.
'No preconceived image'
"When I first came to London in '63, and tried to get a record contract, they said that I looked too macho," says Sir Tom.
"So they were looking at me before they were listening to me, that hasn't really changed, and I don't agree with it."
The 71-year-old explains it was for exactly that reason, that he decided to sign up to the show.
"That's why The Voice is very important because there's no preconceived image. There's a lot of people out there and a lot of different kinds of music that needs to be made."
Although Jessie J - known for her well cut glossy haircut and striking all-in-one cat suits - says image is still important in the music industry.
"I always want to look nice because I'm a female who wants to look nice, but there are days when I don't want to be judged on that," she says.
"I want to be defined by my voice and my music. I think that's what the show is about and that's what it should be about. But I think image is important."
"But what the show's saying is that the voice is the first thing and then everything else stems from that."
The series, which is being presented by Holly Willoughby and Reggie Yates, is divided into three stages.
The first part of the series consists of "blind" auditions, where each contestant performs on stage in a bid to be chosen to join a coach's team.
The twist is that the four coaches have their backs to the performers and only get to see what they look like once they hit a buzzer, indicating they want that singer on their team.
If more than one coach hits their button, then the performer gets to choose who they will work with.
"We're all competitive underneath it all and some of us were throwing our toys out of the pram to get certain people on our team," says O'Donoghue.
"But that's the competitive spirit, it definitely shows up in our character traits."
The second stage sees the coaches pit two of their own acts against each other to sing a competitive duet in front of a studio audience and the final round is the live show, where each contestant fights to remain part of the process.
'More credibility'
Producers are keen to highlight that because the coaches are unable to judge the singer on their appearance, it means everyone gets a fairer chance.
Sir Tom says the show has more credibility than other singing programmes, because the judging panel is made up of four successful singers.
"We've been through it, we know what it's like to get up and perform, unlike some judges on some other shows that just don't know, they've never done it. The ones that have are not very good anyway," he says.
It is the role of the coaches to nurture the singers on their team, before eventually selecting five to go through to the live shows, where the public can vote.
All four stars are confident that with the onus being on the quality of the voice, the winner is sure to be extremely talented, although none of them knew what they were looking for to begin with.
"I went in with a blank canvas so my mind could be open to the spectrum of artists who are here in the UK," Will.i.am explains.
Sir Tom says he was looking for "someone who can spark the radio up" and O'Donoghue says he was after "someone who has a unique, signature thumbprint".
But the show offers up the same stories that have been seen before.
Contestants speak of how badly they want the chance to win and how hard they have worked for it.
Family members grit their teeth with anticipation backstage and there are plenty of tears as each contestant learns whether they are through to the next stage.
But, it is the banter among the four coaches that will, no doubt, be the main talking point of the show.
Name dropping, record sale comparisons and personal achievements are all used against one another in a bid for the artist to secure the contestant they want on their team.
But off-camera Will.i.am insists they are one big happy family.
"I like being around every single one of them," he says.
The 36-year-old, who found fame with the Black Eyed Peas, describes O'Donoghue as being obsessed with music, who will "quite literally write a song about anything", and he expresses excitement at being able to namedrop Sir Tom to his friend Cee Lo Green.
"As for Jessie, well I travel a lot. I get tired and I'm drained, and I'm around Jessie for like two seconds and she's like a real pick-me-up, a thousand volts of electricity."
The Voice begins on BBC One on 24 March. The time is yet to be confirmed.