Navy Seal film Act of Valour tops US box office chart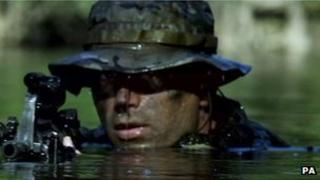 Act of Valour, an action movie starring real-life Navy Seals, has topped the US box office on its debut weekend with takings of $24.5m (£15.4m).
The movie follows US soldiers as they embark on a fictional covert mission to recover a kidnapped CIA agent.
In second place was another new release, Tyler Perry's Good Deeds, which took $15.6m (£9.8m).
At number three was Journey 2: The Mysterious Island, followed by Safe House and The Vow.
Act of Valour was made after production company Bandito Brothers filmed a short documentary about the US Naval Special Warfare Combatant-Craft Crewmen (SWCC).
Navy veteran Captain Duncan Smith, who helped develop the movie, said he was keen to find a story that explained how the Seals worked in an "authentic" way.
Nicolas Cage's latest movie Ghost Rider: Spirit of Vengeance was at number six in this week's box office chart.
Action comedy This Means War is at seven, followed by Wanderlust, starring Jennifer Aniston and Paul Rudd.
In ninth place came another new release, the suspense thriller Gone, with The Secret World of Arrietty claiming tenth place.
The Japanese animated film - - released as Arrietty in the UK - was based on children's book The Borrowers and took $4.4m (£2.7m) when it opened last weekend.
Act of Valour is out in the UK on 23 March.