Oscars 2012: US TV ratings up on last year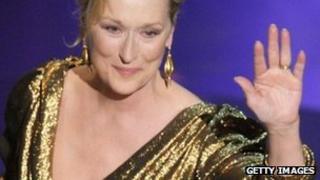 The 2012 Oscars were watched by 39.3m Americans - up 4% on 2011's 37.6m, according to early figures.
The ABC show, which was dominated by the success of best film The Artist, also beat the 2008 initial figures of 32 million and 2009's 36.3 million.
The figure for 2010's ceremony, at which The Hurt Locker won best picture, was 41.3 million viewers.
Veteran comic Billy Crystal, presenting the awards for a ninth time, received mixed reviews for his performance.
The Washington Postsaid Crystal "seemed to be overseeing a cruise ship dinner show designed to appeal to the over-50 travel club".
The Hollywood Reporter's Tim Goodman said Crystal's "safe, unfunny, retro-disaster" made for "an Oscars telecast that was as poorly paced as any in recent memory".
Yet it was an improvement on the "colossal hosting disaster" of last year's ceremony, fronted by actors James Franco and Anne Hathaway, Goodman added.
Elsewhere,Entertainment Weekly's Ken Tucker praised "a jolly good show".
"By now, Crystal has achieved that status of being as reassuring as he is funny. You feel relaxed watching him, knowing he's in charge and alert to the mood of the house," he added.
TheNew York Daily Newssaid the 63-year-old "recaptured smartly the formula that worked for him in the past: a quick-hit opening montage, a song-and-dance number, then a sprinkling of jokes that had an edge but never drew blood".
Silent film The Artist took five awards at Sunday night's ceremony, including best film, best director and best actor.
Meryl Streep won best actress for playing former British Prime Minister Margaret Thatcher in The Iron Lady.
Canadian actor Christopher Plummer took best supporting actor for Beginners, becoming the oldest Oscar winner at the age of 82.
Octavia Spencer won best supporting actress for her role as a maid in civil rights drama The Help.
Other winners included Woody Allen, who was not at the ceremony to pick up the best original screenplay prize for Midnight in Paris.
The best adapted screenplay award was won by Nat Faxon, Alexander Payne and Jim Rash for The Descendants, starring George Clooney.