Mark Rylance Shakespeare plays to transfer to West End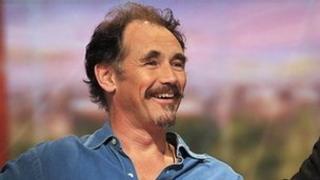 Jerusalem star Mark Rylance is to return to the West End stage in the Shakespeare's Globe productions of Richard III and Twelfth Night.
Rylance, who was the Globe's first artistic director, will play the lead role in Richard III and Olivia in Twelfth Night.
Tim Carroll will direct both shows, which will run together for 13 weeks at the Apollo Theatre from 2 November.
The productions will open first at the Globe from 14 July.
Stephen Fry will star alongside Rylance in Twelfth Night, marking Fry's first major stage role in 17 years.
Samuel Barnett and Johnny Flynn will also appear in the production, with further casting to be announced at a later date.
Rylance was the artistic director of the Globe from its opening in 1995 until 2005.
During his tenure he directed and acted in plays every season and became known for exploring Elizabethan theatre practices.
The actor recently starred in Jez Butterworth's critically acclaimed production of Jerusalem.
His portrayal of Johnny "Rooster" Byron won him a number of awards.
Other West End productions starring Rylance include Samuel Beckett's Endgame and Boeing-Boeing.
He has also starred in productions for the Royal Shakespeare Company, the National Theatre and the Glasgow Citizens.