John Bishop begins triathlon for Sport Relief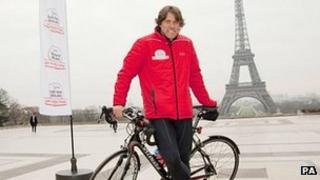 Comedian John Bishop has begun his epic triathlon to raise money for the BBC charity Sport Relief.
The 45-year-old set off on his bike from the Eiffel Tower in Paris on Monday morning.
He aims to cycle 185 miles (298 km) to the coast in less than 24 hours, he will then row across the English Channel.
The final leg of the sporting feat will see him run three marathons in three days, finishing in London on Friday.
Just before he kicked off the challenge, he said: "I am not sure how I'm feeling really right now, it feels a bit like I am in a Mission Impossible movie with the Eiffel Tower behind me.
"I just need to get my head down and get a few miles under my belt."
'Fatigue'
The comic from Liverpool, will be joined along the way by various celebrity friends, including Dermot O'Leary, Frank Skinner and Robbie Savage.
His trainer Greg Whyte, said: "The cycle alone is an extremely long distance to cover in less than 24 hours, even for an experienced ultra-endurance athlete.
"In addition to the fatigue in his legs, John will suffer in his hands, arms and neck from sustaining his cycling position for such a long time - not to mention his bum and groin."
Bishop is hoping to raise enough money to pay for a vaccine against five deadly diseases for 250,000 children in Africa, and also to help people living with difficult circumstances in the UK.
The triathlon will be the subject of a BBC documentary called Bishop's Week Of Hell, which will show his journey.
It will be shown during the build-up to the Sport Relief Weekend, which takes place from 23-25 March.