Oscars 2012: How The Artist turned silence into gold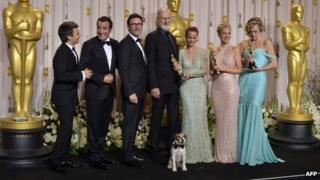 The Artist has won Hollywood's heart. But was it all down to nostalgia for a bygone era, or a promotional campaign par excellence?
In this age of 3D and CGI, who would have predicted that a French art house film, with no spoken dialogue, would win best picture at the Oscars in 2012?
Well, almost everyone as it turns out.
Especially the movie industry's master promoter Harvey Weinstein, who spotted the film's potential and snapped up the distribution rights ahead of the Cannes Film Festival last May.
Speaking backstage after his Oscar victory, producer Thomas Langmann recalls: "I asked him to come a month before Cannes, and he flew to France, to watch a movie with a director he had never heard of.
"I was supposed to leave him alone in the screening room, and I stayed just to check the beginning was going okay. And I heard him laugh and laugh. So I stayed through the whole screening."
Since that moment, the black-and-white film has steamed towards Oscar glory like a train speeding towards a helpless heroine tied to the tracks in a silent movie.
"It's a Harvey special," says Mike Goodridge, editor of Screen International.
"He's spent many months building it up as only he can - and that means keeping it in the gaze of Academy voters and making sure it has that special Oscar feel to it."
Goodridge says Weinstein is skilled at working the group of nearly 6,000 Academy members who vote in the Oscars.
"The Artist is perfect for their older, more conservative demographic, as was The King's Speech last year," he says.
"Here's a film which is nothing but delightful, feel-good and reminds them of old Hollywood. It doesn't touch too deeply on anything in the contemporary world."
Pet project
Last year's big winner, The King's Speech, was co-produced by the Weinstein Company. It cost $15m (£9.4m) to make and its multiple Oscar wins helped it to make $414m (£260m) worldwide.
The Artist has not been as popular at the box office.
With a similar budget, it has taken almost $32m (£20m) at the US box office, and $76.5m (£48.2m) worldwide.
Of the nine best picture nominees this year, it was the third lowest-grossing, ahead of Extremely Loud and Incredibly Close, and The Tree of Life, according toBox Office Mojo.
So how did the project get off the ground?
The film's writer and director Michel Hazanavicius had always wanted to make a silent film since he began working in the movie industry in the 1990s.
In 2006, Hazanavicius had success with his second film, the spy spoof OSS 117 - Cairo Nest of Spies, starring both Jean Dujardin and the director's wife, Berenice Bejo.
A sequel, OSS 117 - Lost in Rio, followed in 2009.
After the experience of making two period movies - they are set in the 1950s and 1960s respectively - Hazanavicius decided to make his much yearned for silent movie.
But it failed to attract big studio money, so producer Langmann - whose father was the Oscar-winning film-maker Claude Berri - dug into his own pocket.
The film has several production companies, mainly French, but also one in the US.
'Public gaze'
Filming began in Los Angeles in October 2010. It lasted 35 days and used several locations steeped in Hollywood history.
The Artist premiered at Cannes in 2011 where Dujardin won the best actor prize, although the film lost out to Terence Malick's Tree of Life for the Palme d'Or.
But the buzz continued to grow at film festivals, and then the prizes started rolling in.
The Artist won three Golden Globes, and seven Baftas - including best film.
Weinstein ensured Dujardin was a ubiquitous presence on red carpets on both sides of the Atlantic.
"He's worked Jean Dujardin like a dog," says Screen International's Goodridge.
"Jean Dujardin has been at everything. He's spent more time in the US than he has in France. Harvey keeps these people in the public gaze.
"The film hasn't made much money in America but that's not the point - the point was getting those 6,000 voters fully au fait with it. It's the perfect campaign."
Another canny marketing move was to take The Artist's canine star Uggie the Jack Russell terrier on a publicity tour as the film opened.
In January, Uggie was a TV fixture - playing dead and riding a skateboard.
Alan Silverman, a Los Angeles-based entertainment reporter for Hollywood Bytes, says the other key to The Artist's success was its entertainment factor.
"The Help was very powerful and had a strong message about human values, but this was more a film about being an ordinary person," he says.
"Even though there are some very dark moments in the film, you're smiling when you walk out of the theatre - you almost wish you could dance the way the central characters do."