London 2012: Olympic Museum to open on Park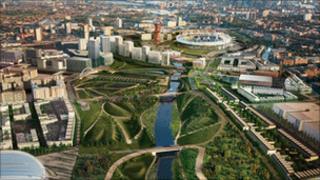 An Olympic Museum is to be built on the Olympic Park in east London, when it reopens after the Games.
The proposed venue would open in 2014, near the ArcelorMittal Orbit tower, the British Olympic Association (BOA) said.
Interactive exhibits will gather together London 2012 memories, show how the venues were built, and seek to inspire future generations.
The collection will also celebrate London becoming the first city to host the Olympic Games three times.
There is very little legacy of the 1908 and 1948 Games in the city, with theHerne Hill velodrome in south Londonthe only remaining 1948 finals venue still in active use.
The Olympic Park is due to reopen as a public space in 2013 when it will be renamed the Queen Elizabeth Olympic Park.
The Olympic Park Legacy Company, which is overseeing thebuilding of homes and amenitieson the Park, is working with the BOA to find funding for the museum from donors and Olympic partners.
The two bodies said they were working together to reach a licensing agreement within weeks.
BOA chief executive Andy Hunt said the museum would cost £10m to develop and operate for three years before breaking even. Visitors will be charged an entry fee.
BOA chairman Colin Moynihan said: "The museum will also provide an important opportunity to honour and celebrate the most outstanding British Olympic athletes and create a platform for their stories to inspire generation upon generation of future sport participants with their achievements."
While the design and content of the Museum is still under discussion, the BOA said it anticipated the experience might include 2012 Olympic memories, information on sports and a glimpse behind the media coverage.
International Olympic Committee (IOC) President Jacques Rogge said: "I am a firm believer that the Olympic Games are not only about gold medals, world records and unforgettable sporting competition. At their core they are about people.
"The new British Olympic Museum is the place where these stories of human triumph and sacrifice will come to life and it will become part of the lasting legacy that London 2012 will leave the UK for generations to come."