Andrew Lloyd Webber and Gary Barlow write Jubilee song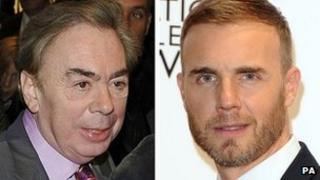 Take That's Gary Barlow and Andrew Lloyd Webber have announced they are to create a song together for the Queen's Diamond Jubilee celebrations.
The collaboration will be performed at the Diamond Jubilee Concert outside Buckingham Palace on 4 June.
For inspiration, Barlow is to travel round the Commonwealth to discover what the Queen means to ordinary people.
"This is probably the biggest challenge I've ever taken on musically," Barlow said.
"I'm so excited and thrilled to be a part of it."
Barlow's journey, which will also explore the different musical cultures and traditions in the Commonwealth nations, will be the subject of an hour-long documentary for BBC One.
"It is a huge honour to be involved in this historic occasion and I am looking forward very much to working with Gary," Lord Lloyd Webber said.
'Join forces'
Speaking on Chris Evans' Radio 2 Breakfast Show, he explained how the collaboration came about.
"We both realised that there was a possibility that we would both be writing a song for the Jubilee to celebrate the Queen. I called Gary and said: 'Are you doing it because someone's talked to me about it?'
"And we thought it best to say we might join forces."
X Factor judge Barlow said he was hoping to find some "unique artist" from around the world, who could perform the track.
The Jubilee concert - which Barlow is helping to organise - has now attracted more than one million ticket applications.
Sir Paul McCartney, Sir Elton John, Dame Shirley Bassey, Jessie J, Ed Sheeran and Sir Cliff Richard have all been signed up to perform.