Viagogo defends sale of promoters' tickets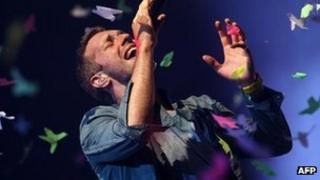 Secondary ticketing website Viagogo has defended the practice of gig promoters selling tickets on its website saying "we don't discriminate".
Channel 4's Dispatches highlighted the thousands of tickets, for acts including Coldplay and Take That, sold in this way for inflated prices.
Viagogo said it aimed "to ensure that if you buy a ticket you get a ticket in time for the event".
It earlier failed in a High Court bid to stop the programme airing.
The company had sought an injunction on the grounds of breach of commercial confidence.
The High Court held the material was not commercially confidential and even if it had been, it would have been in the public interest to report.
The issue of reselling concert tickets is a divisive one, with opponents complaining that desperate fans often have to pay over-inflated prices.
'Premium partner'
On Thursday night's Dispatches programme, fans were shown complaining that tickets were resold at higher prices on secondary ticketing websites within minutes of events selling out.
They also complained that they had believed they were buying from other fans, rather than promoters, and said they had less chance of buying tickets at face value.
Dispatches alleged that Live Nation, which works with artists including Madonna and U2, and SJM Concerts, which works with One Direction and Jessie J, had allocated large numbers of tickets to Viagogo.
Viagogo UK director Ed Parkinson told the BBC News website its business model was to "guarantee that buyers get their tickets and sellers get paid".
"We allow anyone to sell on our marketplace and the overwhelming majority of our sellers are individuals but it also includes larger sellers which can include concert promoters.
"We don't discriminate. We allow anyone to sell on our market place as long as they deliver the tickets that they sell."
Music fans on the Dispatches programme also complained that some desirable tickets at concerts, including for front row seats, were put straight onto ticketing websites.
Mr Parkinson said that, as a "premium ticketing partner" to a number of promoters and organisations, "this will mean that certain premium seats will be made available to us".
Viagogo makes money by taking a cut of a ticket's selling price.
A spokeswoman said the same rate applied to tickets sold by major concert promoters as those sold by individual music fans.
But she could not comment on any further deals made with partners.
Neither Live Nation nor SJM Concerts have commented on the practice but the Concert Promoters Association (CPA), of which both are members, said some promoters "at least in part, operate in the secondary market".
It said this was because the last government had failed to outlaw the resale of concert tickets, despite lobbying from the CPA.
"If promoters put tickets into the secondary market then the result is that prices are brought down whilst also ensuring that some of the tickets available in the secondary are actually genuine ones," the CPA said in a statement.
The secondary market was "effectively being used as a premium price primary market for those fans who wish to use it for convenience", it added.
Those fans would be happier that a premium paid "went to the artist via the promoter rather than went to a tout", it said.
The CPA said "the real problem" facing fans was that "tickets that touts put onto the secondary market don't actually exist and those that do are not in their possession to sell on".
Earlier this month, Jon Webster, chief executive of the Music Managers Forum, called for a cap on resale values.
He told the BBC: "It reflects badly, at the end of the day, on the artists - probably more so than anyone.
"Punters don't know who the promoters are most of the time so, in the end, the fans blame the artist."