Rowan Atkinson wades into TV ageism row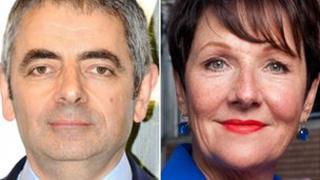 The BBC should have been allowed to drop Miriam O'Reilly from Countryfile without facing age discrimination accusations, Rowan Atkinson has said.
In 2011, she won an employment tribunal after she claimed she was unfairly dropped as host of the show in 2009.
Writing to BBC Radio 4's Media Show, Atkinson said creative industries were "completely inappropriate environments for anti-discrimination legislation".
She said she acted so women "would not be excluded" from creative processes.
In his letter to the BBC, Atkinson - the star of TV shows including Blackadder and Mr Bean - said he did not blame O'Reilly for "pursuing her case".
But he said "the legal tools she used should never have been available to her".
Creative latitude
Atkinson said O'Reilly's case was like "Pierce Brosnan complaining that he was sacked from the role of James Bond for being too old".
"And as with any creative construct, whether it's a BBC factual television programme or a film or an oil painting, if creative freedom means anything, it is having complete creative latitude to include or exclude anybody or anything for any reason."
He said he remained "amazed that, to this day, few people seem to appreciate the attack on creative free expression that Miriam O'Reilly's case represents".
Atkinson's comments come a fortnight after Mark Thompson admitted, in an article in the Daily Mail, that there were "manifestly too few older women broadcasting on the BBC, especially in iconic roles and on iconic topical programmes".
The O'Reilly case had been an "important wake-up" for the BBC, he added.
Responding to Atkinson's letter, O'Reilly said: "Rather than an attack on free expression, I made a principled stand so that women wouldn't be excluded from the creative process because of their age, which has been the case for decades.
"I won't accept that working in film or television should exclude you from the rules that apply to everyone else in society."
In her employment tribunal she argued she had been discriminated against because of her age, when she was dropped from the rural affairs show as it moved to a primetime Sunday evening slot in April 2009.
Camilla Palmer, from law firm Leigh Day and Co, which represented O'Reilly, said Atkinson's James Bond comment "demonstrates just how far from reality those in the industry can get, existing in a world which they believe shouldn't conform to the rules that protect normal people".
"Does Mr Atkinson believe we should do away with age, sex and race discrimination from his industry?"
People in the creative industries should "stop believing that they are a special case", she said.
In June last year, five months after her tribunal, O'Reilly began presenting Crimewatch Roadshow alongside Rav Wilding.
Last month, she announced she would be leaving the BBC one year into a three-year contract to "work on other projects" including her charity, Women's Equality Network.