Fourth Plinth Rocking Horse unveiled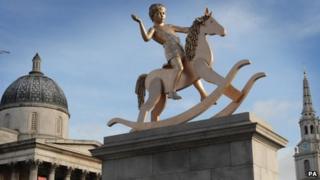 A 4.1m high bronze sculpture of a boy on a rocking horse has been unveiled on the Fourth Plinth in Trafalgar Square.
Artists Michael Elmgreen and Ingar Dragset say Powerless Structures, Fig 101 questions "monuments predicated on military victory or defeat".
They said it was "up to the public to love it or hate it" but "hopefully not ignore it".
Funded by the Mayor of London and Arts Council England, the sculpture will remain in place for a year.
The artists said, in a statement, that "the image of a young boy astride his rocking horse encourages viewers to consider the less spectacular events in their lives which are often the most important".
'Gleaming talisman'
Unveiling the work, Joanna Lumley hailed the "completely unthreatening and adorable creature".
The actress, who has previously recorded a voice track to accompany one of the duo's sculptures, said the new work would "speak for itself - it doesn't need any prompting from a human".
It would make "us all look around our fantastic city and look at all the other sculptures and statues which adorn this miracle of a place which is called London", she added.
The plinth, built in 1841, was originally designed to host a bronze equestrian statue of King William IV designed by architect Sir Charles Barry.
Organisers said that, after 170 years, "Elmgreen & Dragset have completed the process by presenting a new take on the tradition of equestrian statues, directly engaging with the history of the plinth itself".
Mayor of London, Boris Johnson, said it seemed "fitting to have such a gleaming talisman to watch over our city during this fantastic Olympic year".
Danish artist Elmgreen and Norwegian Dragset, who are based in London as well as Berlin, have held solo exhibitions at galleries including the Serpentine and Tate Modern, in London, and The Power Plant, in Toronto.
As a duo, the artists - who will exhibit at London's Victoria and Albert Museum in autumn 2013 - are known for works including Prada Marfa, a full-scale replica of a Prada boutique in the middle of the Texan desert.
Powerless Structures, Fig 101, replaces Yinka Shonibare's large-scale Nelson's Ship In A Bottle.
A bright blue cockerel, designed by German artist Katharina Fritsch to symbolise regeneration, awakening and strength, will stand on the plinth from 2013.
In 2009, Antony Gormley's Fourth Plinth work One & Other saw 2,400 people take the space for an hour.