Princess Anne opens Blue Peter garden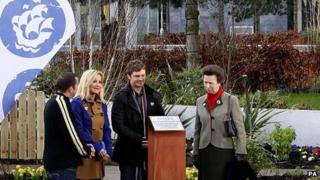 The Princess Royal has officially opened the new Blue Peter garden outside the BBC TV programme's new studios at MediaCityUK in Salford.
Princess Anne planted a tree and unveiled a plaque following the show's move from London in September.
The planting was part of the Woodland Trust's Jubilee Woods project, which aims to plant six million trees to mark the Queen's Diamond Jubilee.
The garden, next to the MediaCityUK tram stop, will be open to the public.
Local schoolchildren joined the princess and presenters Helen Skelton and Barney Harwood, gardener Chris Collins and dog Barney at the opening on Thursday.
The bronze statue of Petra, the show's first pet, has been moved from the old garden at Television Centre.
A statue of Mabel - another of the show's longest-serving pet dogs - has been moved to the reception area along with a sculpture of the Blue Peter ship logo.
The show's editor Tim Levell said: "We're really excited about being able to open up the garden so Blue Peter viewers can come along and visit it - we wanted to make it as accessible to the public as possible."
It had previously been reported that the new location would be off-limits, on the roof of Blue Peter's new studio.
A mainstay of the long-running children's show, the original garden was designed by Percy Thrower behind the staff canteen in Television Centre. In 1983, the garden was targeted by vandals, who stamped on plants, poured oil into the pond and smashed stonework.
Last June, Blue Peter broadcast its final show from London before it moved to Salford along with other parts of BBC Children's department, BBC Sport and radio station 5 live. BBC One Breakfast will join them in April.
The garden's opening can be seen at 17:45 GMT on Thursday on the CBBC channel and 16:30 GMT on Friday on BBC One.