Newsnight wins programme of the year award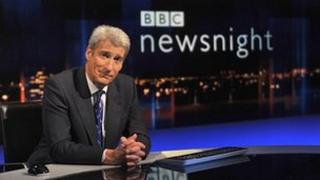 BBC Two news show, Newsnight, which is hosted by Jeremy Paxman, has been named news programme of the year at the Royal Television Society (RTS) awards.
The BBC picked up a further four awards, including three prizes for current affairs programme Panorama.
The news channel of the year trophy went to Al Jazeera English, while ITN's Sir David Nicholas was presented with the lifetime achievement award.
Sky News received four gongs, including best news coverage for the UK riots.
The channel's reporting on Libya was named best international coverage and Anna Botting was named presenter of the year.
Sky's Alex Crawford took home the prize for best television journalist for the third consecutive year.
Last year she covered the Libyan conflict and the downfall of Colonel Gaddafi, and she was the only journalist to get inside the town of Zawiyah as it was being attacked by pro-Gaddafi forces.
The BBC's Panorama programme Undercover Care, which investigated the abuse of patients in a Bristol care home, won best UK current affairs coverage and scoop of the year.
Eleven people were charged in connection with ill treatment and neglect of patients following secret filming by the Panorama team at Winterbourne View, which is now closed.
Joe Casey, who went undercover at the care home to shoot the footage, was named young journalist of the year; while Newsnight's economics editor Paul Mason walked away with the specialist journalist of the year award.
ITN for Channel 4 scooped the trophy for best international coverage for the documentary Sri Lanka's Killing Fields.