Brit awards TV audience 'the biggest since 2005'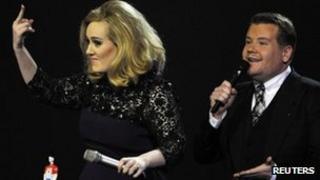 More people tuned in to ITV's coverage of this year's Brit Awards than have done so in the last seven years.
The average audience to have watched the ceremony on ITV1 and catch-up channel ITV1+1 was 6.2 million - the event's highest audience since 2005.
If the catch-up figures are excluded, the average audience was 5.9 million.
ITV said it had received 170 complaints about the climax to Tuesday's telecast, which saw an acceptance speech by Adele cut short by host James Corden.
The channel has issued a public apology to the singer, who reacted to the perceived slight by aiming a rude gesture at Brit organisers.
"That was for the suits at the Brit Awards, not my fans," she told reporters afterwards. "I'm sorry if I offended anyone, but the suits offended me."
"Unfortunately the programme was over-running and we had to move on," said ITV. "We would like to apologise to Adele for the interruption."
A Brits spokesman added: "We regret this happened and we send our deepest apologies to Adele that her big moment was cut short."
Corden said he was under orders to silence Adele so that Blur - recipients of the outstanding contribution award - could perform a medley of their hits.
"Just after Adele said thank you, people were saying: 'You have to go in now'," he told 5 Live's Richard Bacon on Wednesday.
"I said: 'I can't' - they said: 'You have to'. I said: 'How can we cut her off?' The whole room was on its feet.
"It was such a surreal moment, when everything you can hear in your ear is five people essentially having an argument."
The Gavin and Stacey star said it had been "upsetting and disappointing" but that it had been "just one of those things".
The 2005 ceremony - hosted by DJ Chris Evans and featuring performances from Green Day and Scissor Sisters - drew an average audience of 6.3 million.
The 2008 event - hosted by Ozzy Osborne and his family - was watched by an average audience of 6.1 million.
At its peak, this year's ceremony at London's O2 arena was watched by 7.4 million people - more than double the audience for last year's show, according to Corden.
Adele won two prizes at the ceremony. Her first, for best British female, came earlier in the evening, while the second, for best British album, was the final one presented.
Singer-songwriter Ed Sheeran also won two awards, for best British male and British breakthrough.
Coldplay were crowned best British group for a record third time, while former X Factor boy band One Direction won best British single.