London 2012: Worldwide fashion hits city for Olympics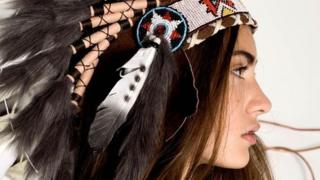 Imagine grabbing your passport and heading to see collections from the hottest fashion designers in the world.
Exhibitions launched during Fashion Week give you the chance to do that, without leaving London's doorstep.
More than 80 international designers displayed their work in 19 embassies and institutes for the International Fashion Showcase.
The British Council and British Fashion Council have joined together to celebrate the Olympic year.
The showcase has been developed to honour its values of international respect, excellence, equality and friendship as part of the Cultural Olympiad.
"This is London's Olympic year," Vicky Richardson, director of architecture and design at the British Council said.
"We've been working across an extensive programme of Olympic events in a range of sectors - music, drama, sport and education to internationalise the Games. We were really keen that fashion should be part of that.
"It made sense to look at Olympic values in this year and connect fashion with a broader range of cultural events."
The British Council, which is the UK's international cultural relations body, has had a fashion programme around the world for some time but never had the chance to work with fashion in this country.
"We worked with the London embassies in 2010 on an architecture showcase and it was very successful," Ms Richardson said.
"We thought it would be great to try this with fashion and approached the British Fashion Council to work with us, to bring international fashion talent to London."
Including people
And it is during London 2012 that they decided to gear the exhibition towards the values associated with the Games.
"There is something quite inspiring about the Olympics in terms of the ideals and higher values. Being able to travel the world in one city through this event is very exciting. You can immerse yourself in it," Ms Richardson added.
"For example, there is a young hat designer who talks about edo-warriors and their headgear and how it has influenced his collection. Something like the Olympics can make that possible and it focuses the world in one place.
"One of the things that makes London exciting is how international the culture is here. If you look at London Fashion Week you find people who have come to the city or the UK quite recently. They have studied, stayed and set up their studios.
"That's the capacity to include people and be open to outside ideas and influences. It is a real strength and we have to hold on to that, keep the doors open if you like, and keep culture open to those influences.
"Most countries share the aim of supporting emerging talent and there is a huge range of different scales of economy and political context.
"We felt everyone could unite in the idea of supporting emerging talent and especially bringing young designers to London. It's hard to get young talent to the city so it's a huge addition to London Fashion Week.
"It's provided a platform that didn't exist before so it's a really good thing and hopefully in future years we can go a lot further than that.
"Fashion is an increasingly important industry, not just in production but in the creative industries."
Passport guide
It does not stop at 2012. For when Rio takes over the baton for the 2016 Olympics, the British Council will have a programme which starts when the London Games finish - increasing the links between the two countries.
Meanwhile visitors to the London 2012 exhibitions were given a passport guide to the show and encouraged to get it stamped at all the stands they visited - around 19 different venues in London.
And while events were taking place when most of the world's supermodels were descending on catwalks, Anna Orsini from the British Fashion Council explained how they discouraged designers from putting on shows.
"We encouraged them to have opening events instead as we couldn't put them on the catwalk scheme," she said.
"They could share this audience which comes to London to look for emerging talent."
She also said they would not have had the attention of the international fashion press if it was not for the showcase.
"It was very exciting to be part of it. As part of Fashion 2012 we are aware of the importance and interest in London - where designers could receive the support of the authorities for a budget to create a showcase."
During London Fashion Week, Korea was given the award of Best Emerging Fashion Talent after showcasing eight British-educated designers who have developed high-profile collaborations with artists such as Lady Gaga.
"It chose designers who were educated in England and that creates the global link to schools and confirms it in a global market," Miss Orsini said.
"To see 'British designers' at home in the year of the Olympics made it the right time to bring international talent to London.
"It's a project close to my heart and I'm delighted that so many embassies took to it."
She said that while the collections were not themed on the Olympics, the showcase was designed with the Games in mind.
"The idea is one of fraternity - when the international attention is on London, invite your emerging talent to share this audience.
"Fashion is a competitive industry so to offer the same platform is in the spirit of respect, friendship and equality.
"That is the spirit of the Olympics."