Mark Ronson to score Royal Ballet work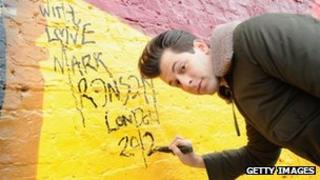 Music producer Mark Ronson is to work with choreographer Wayne McGregor on a new Royal Ballet dance piece that will have its world premiere in April.
The currently untitled piece features in a triple bill that will have six performances at the Royal Opera House.
Designer Gareth Pugh and songwriter Andrew Wyatt will also collaborate on what has been described as "a perfect fusion of pop, dance and fashion".
The Royal Ballet made McGregor its resident choreographer in 2006.
His new work will see 18 dancers join "a number of artists" who will perform the nine songs Ronson and Wyatt are creating for the production.
According to the Royal Ballet, the songs will "focus on the Jungian theme of anima/animus and the theory of collective masculine and feminine unconscious".
Ronson, 36, is best known for his work with such chart-topping artists as Daniel Merryweather, Lily Allen and the late Amy Winehouse.
In 2010 Wyatt - part of the Swedish electropop band Miike Snow - contributed to two songs on Ronson's Record Collection album.