Michelle Williams named 'honorary Irishwoman' at awards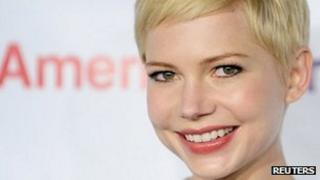 US actress Michelle Williams has become the first "honorary Irishwoman" to win an Oscar Wilde award for her role in My Week With Marilyn.
The Oscar-nominated star picked up the award at the ceremony on Thursday, which celebrates Irish cinema talent.
She was honoured alongside other Academy Award nominees John Logan, screenwriter of Hugo, and Bridesmaids star Melissa McCarthy.
Williams said she was "honoured" to receive the prize.
The Oscar Wilde awards, named after the famed Irish writer, were created by the nonprofit US-Ireland Alliance.
Not being born in Ireland is no barrier to accepting an award as, in previous years, the organisation has honoured stars such as Paul Rudd and James L Brooks who have no Irish connections.
Williams, who is of Scandinavian descent, is the first woman to have received the Irish accolade.
Logan said the actress was still eligible for the prize because being Irish means "an incandescent twinkle in the eye, the love of mad poetry and more than anything a generosity of spirit".
Williams, who is nominated for the best actress Oscar, faces competition from Meryl Streep, Viola Davis, Rooney Mara and Glenn Close at Sunday's ceremony.
"I consider it [the award] is from a land and from a people who are known for poetry, for literature and lore, for myth and legend .
"Being in a business that is about story-telling, I'm honoured to be acknowledged by the original story-tellers," she said.
In her acceptance speech, Williams said: "I could tell you how playing Marilyn Monroe was the greatest gift of my professional career, but what I would rather do is leave you with a little poem."
She then read a brief verse - Prayer - by American poet Galway Kinnell.
Among those also present at the event were director Steven Spielberg, Irish actor Colin Farrell and Belfast-born Kenneth Branagh, who is also up for an Oscar for his role as Sir Laurence Olivier in My Week with Marilyn.
My Week with Marilyn's British director Simon Curtis said Williams had insisted Monroe had wanted to be taken seriously as an actress.
"For most people of my age and younger, Marilyn is a very famous face and a famous name, but not really an actress.
"I hope our film will cause people to re-evaluate the greatness that was Marilyn Monroe."
He said that having Williams play Monroe had "raised everyone's game" on set.
"Everyone was so determined to get Marilyn right and I'm so thrilled that Michelle is being recognised for that very brave choice in doing it."
Logan's honour was presented by Branagh.
Born to parents from Northern Ireland, the screenwriter - who co-wrote the new James Bond film Skyfall, is currently adapting the hit musical Jersey Boys for the big screen.
Logan spoke about his late father who had shown him the film of Olivier's Hamlet as a boy.
"It was the moment that changed my life," he said.
"My dad never showed me how to throw a ball, but he sure as hell made sure I knew who William Shakespeare was."
The ceremony was hosted by Star Trek director and Lost creator JJ Abrams on the roof of his Bad Robot production company HQ.