The Artist sweeps Independent Spirit Awards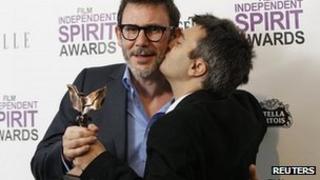 French silent film The Artist has been named best feature at the Film Independent Spirit Awards.
It comes one day before it is expected to take the top prize at the Oscars.
In a scene that could have come out of a movie, director Michel Hazanavicius was given a police escort from the airport to Santa Monica in time to see his film pick up four awards.
He had just jetted back to Los Angeles from Paris where The Artist swept the Cesar awards on Friday.
The annual Spirit awards, which honour independent film-making, are a laid-back warm-up to the Oscars.
This year, as last year, they took place in a giant tent next to Santa Monica beach in California.
Several other Oscar hopefuls won prizes in the event on Saturday, including Christopher Plummer for best supporting actor in Beginners, and Michelle Williams - named best actress for My Week with Marilyn.
In her acceptance speech, Williams thanked the room "full of misfits, outcasts, loners, dreamers, mumblers delinquents, drop-outs... just like me".
Best international film went to Iran's A Separation, while The Descendants won best screenplay.
'Really excited'
The Artist's other wins went to Hazanavicius for best direction, Jean Dujardin won best male lead and the cinematography prize went to Guillaume Schiffman.
Asked how he coped with many months of cross-Atlantic promotion for the film, Hazanavicius said: "Physically it is tiring, but the energy is so good that you don't really feel it. We are really excited and enjoying every moment.
"We had the police escort from the airport - that was great - that was the best part."
The French film qualified as a US independent because it was partly US-financed. It was shot in Los Angeles.
"This movie was made to be a tribute to Hollywood and to cinema and the best place to do it was to do it here," said its producer Thomas Langmann.
"So to come back and be rewarded by the Hollywood community is a dream come true."
List of winners
Best Feature: The Artist
Best Director: Michel Hazanavicius, The Artist
Best Male Lead: Jean Dujardin, The Artist
Best Female Lead: Michelle Williams, My Week With Marilyn
Best Supporting Male: Christopher Plummer, Beginners
Best Supporting Female: Shailene Woodley, The Descendants
Best First Feature: Margin Call
John Cassavetes Award (Feature Under $500,000): Pariah
Best Screenplay: The Descendants
Best First Screenplay: 50/50
Best Cinematography: The Artist
Best Documentary: The Interrupters
Best Foreign Film: A Separation
Robert Altman Award: Margin Call