Opera star Elizabeth Connell dies at 65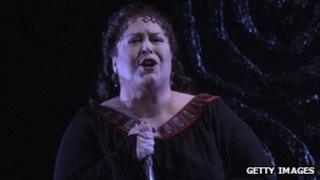 Opera star Elizabeth Connell, who performed at such leading opera houses as the Royal Opera House and La Scala, has died at the age of 65.
The South-African born singer moved to London in 1970 and made her debut at Ireland's Wexford Festival in 1972.
Originally a mezzo soprano, she drew acclaim for her roles in the works of such opera giants as Verdi and Wagner. Connell switched to soprano in 1983.
She spent five years attached to the English National Opera from 1975.
Connell then became a freelance artist with the major opera houses.
She died on 18 February at her home in Richmond, south-west London and is survived by several siblings.
War and Peace
Connell appeared at New York's Metropolitan Opera and also performed at the Bayreuth, Salzburg, Verona and Glyndebourne festivals.
She also had a long association with Opera Australia, which began when she sang at the opening of the Sydney Opera House in Prokofiev's War and Peace in 1973.
More recently she sang Gertrude in Humperdinck's Hansel and Gretel for the Royal Opera and Fidelio with the London Philharmonic Orchestra.
In December 2008 Connell enjoyed success at the opening night of Puccini's Turandot at the Royal Opera House.
Her final performance was a recital last November in Hastings.