The Simpsons' 500th episode airs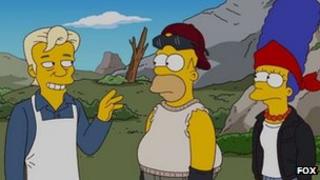 The Simpsons has reached a major television milestone with the broadcast of its 500th episode on Sunday.
It saw the cartoon family exiled to a community of outsiders where they met Wikileaks founder Julian Assange.
Fox TV said Assange recorded his lines from the UK, where he is fighting extradition to Sweden over allegations of sex offences - which he denies.
The animated comedy is in its 23rd season, making it the longest-running primetime scripted programme on US TV.
The show is contracted to run for another two seasons.
In the 500th episode, entitled At Long Last Leave, the Simpsons are shown sneaking into a secret town hall meeting where they hear they are about to be thrown out of town.
They subsequently find a welcome in "The Outlands", where Assange is their neighbour.
Previous guest voices on the programme include former Prime Minister Tony Blair, graffiti artist Banksy and novelist Thomas Pynchon.
Once the show's 25th season has been completed, the number of episodes made will stand at 559.
Creator Matt Groening said the writers still had stories to tell, mostly involving "characters we've never dealt with".
"We have a character we call Squeaky-Voiced Teen," he told the Los Angeles Times. "I'd like to know a little bit more about that guy."